Sometimes a simple photo doesn't get your whole message across. A few carefully chosen words can often make all the difference. fCards by fStop is a virtual postcard app that allows you to add text to an image to create your own custom message.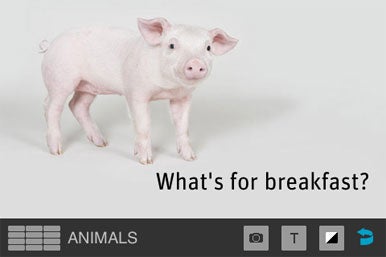 When you launch fCards, you can take a new photo with the iPhone's camera, select one from the camera roll on your iPhone, iPod touch, or iPad, or choose from one of the stock images that the app includes. fCards breaks its stock photos into a a number of familiar categories: Holidays, Love, Birthday, and son on. Flipping through the images reminded me of browsing the greeting card section at my local pharmacy.
Once you select the image you want, it's now up to you to add the witty one-liners or heartfelt sentiment. You add text over the photo by tapping the text icon on the bottom of the screen and typing. You drag words anywhere on the image, though they all have to remain in a straight line—there's no text wrapping. You can keep tapping the text icon to cycle through the five fonts that are available; a tap of the color icon makes the text black or white.
When you're pleased with the look of your postcard, you simply tap the rounded arrow icon on the bottom of the screen. The postcard flips around, showing you the back. As with a physical postcard, you can type a personal message on the left panel, and on the right, you enter the name and e-mail address (or addresses) of the recipient. You can also post your fCards creation directly to Facebook by logging in with your Facebook credentials.
fCards could improve in a few areas. I'd like to be able to save the finished image directly to my camera roll so I could reuse it or send it via MMS. I'd also like to be able to have a bit more flexibility with the text that is entered over the photo.
Beyond these minor complaints, fCards does a nice job of making it very simple to create your own postcard. Isn't adding your own comments more fun than choosing one off the rack anyway?
[Macworld contributor Beau Colburn lives in Boston and posts iPhone photos on his site Snap different.]