Ah, summer. The chance to take a break from worrying about work, go on vacation, and spend your time worrying about getting good pictures. Fortunately, your photographic life doesn't have to be as stressful as your work life, as long as you follow a few tips and pack the right gear.
Top vacation photo pitfalls and fixes
When shooting vacation pictures you need to consider the same things you do when shooting anywhere else: exposure, composition, adequate sunblock. However, there are some common vacation photo problems that can be easily remedied.
Get Closer When you see a grand vista, or vast landscape, it's easy to think that you need the widest angle possible to capture this breathtaking view. But the problem with wide angles is that, when you zoom out, distances get stretched and details in your image get smaller. The result can be an image with no discernible subject.
Rather than trying to capture everything, remember that sometimes less is more, and your job as a photographer is to represent. Get in close, and capture just a sliver of that broad vista, or find an evocative detail in the scene, and shoot that. Some scenes are simply too big to fit in a photo, so go for the details, and enjoy the view while you're there.
Balance your Sunsets If you find yourself somewhere with a beautiful sunset, and you're itching to take someone's picture in front of it, remember that the sun is still very bright. This means you're shooting in a back-lit situation so you need to take the same steps that you would if you were shooting in front of a window. Use your camera's fill flash to illuminate your subject. The camera will expose for the background, so the result should be a nice, even exposure.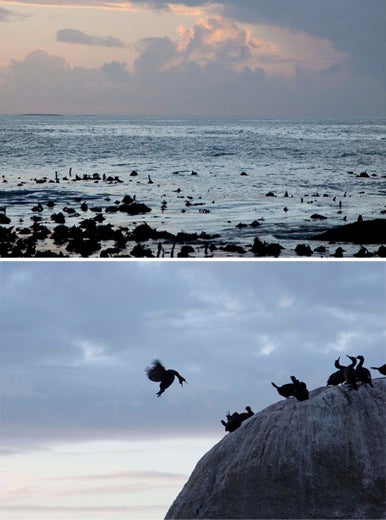 Be Selective Remember that presentation is everything. We've all been bored by other people's vacation shots (and now, with Facebook, Twitter, and blogs, we can bore each other with vacation pictures while we're still on vacation) so consider this when you get ready to show your images to someone else. Two-dozen very good images, carefully chosen and thoughtfully sequenced, will pack much more impact than 75 images.
Don't Forget to Vacate People who sell photo gear will often use the term "memories" as synonymous with "photos." Of course, a photo can help spur a memory, but it's not a memory in itself. If you spend all your vacation time taking photos, then most of your actual memories of your trip will be about photography. Remember that you can't actually preserve and capture your entire experience, so try to stay present and actually experience your vacation.
While a picture in front of a sunset is nice, you don't need one in front of every sunset you see. Nor do you need to take a shot of every grand vista, or historical landmark.
As an experiment, muster the nerve to leave your camera behind on at least one exciting outing during your vacation. While you may get nervous when you see some sort of "once-in-a-lifetime" photo, don't worry about it. The fact is, similar opportunities will come along again, and you'll have a more meaningful experience if you pay attention to where you are, as much as you try to capture where you are.
Pack the right photo gear
If you've been looking for a reason to buy some new photo gear, a summer vacation makes a great rationalization. Your specific photo needs depend on your destination and kit, but here are some general items that are always on my packing list.
A Great Strap You'll be carrying your camera a lot so make sure it's easy and comfortable to tote. One of the best ways to do this is to pick up a LumaLoop ($60). The LumaLoop is a sling that leaves your camera at your side like a normal strap. The camera clips into the sling and slides up and down it, meaning you can easily bring it up to your eye at any time, and slide it back to down your hip. The Luma Loop feels like you always have a little table following you around. You just reach down, slide up your camera, shoot, and slide it back down. No hassling with straps.
Camera Bag If I'm flying somewhere for an extended stay, and I'm planning on doing lots of different kinds of shooting, then I will probably bring a lot of gear—lots of lenses, a tripod, flashes. Obviously, checking delicate camera gear is a dubious proposition, so I usually use a large camera bag to carry all of my gear on the plane. I put my travel tripod in my suitcase, and my tripod head in my camera bag. If you have a huge amount of gear, you might want to consider a rolling bag.
Note that many international airlines are picky about the weight of carry-on bags. If your camera bag is too heavy, they'll ask you to take things out of it or check it. Before you leave, stash a small cloth shopping bag into your luggage somewhere. This will give you a place to put any gear that you're forced to remove from your bag. If you plan properly, you can still carry this cloth bag onto the plane.
Since I usually don't carry all my gear with me when I'm shooting (I typically leave my computer, some lenses, and my flashes in my hotel room) I also pack a smaller camera bag. That way, I have a practical bag for a day's shooting. You'll need to decide how big a bag you need for your typical day's worth of gear, and whether you prefer a shoulder bag or a backpack.
GPS Device Geotagging is the process of embedding latitude and longitude coordinates in the metadata of your images, so you always know where they were shot. If you have a handheld GPS that you use for hiking, leave it turned on and in your pocket. It will keep track of where you go. At the end of the day, you can use Houdah Geo or Aperture 3 to take the track data from your GPS, and sync it with the timestamps on your photos to automatically determine where you were when you were shooting.
If you don't have a handheld GPS, consider picking up a Gisteq PhotoTrackr. Small enough to keep in your pocket, the PhotoTrackr can't tell you where you are, or get you un-lost, but it will keep track of your travels throughout the day, and allow for easy geotagging of your images later, just like a handheld GPS. You can even take advantage of your iPhone's geotagging capabilities with an app like PlaceTagger ($10).
Backup Tools If you shoot a lot of images, you'll need a place to store all of that data. If you're taking your Macbook with you, you can dump images there. But if you're traveling computer-less, perhaps in an attempt to get away from it all, then you might want to consider some other options.
If you have an iPad, you can pick up Apple's iPad Camera Connection Kit. While this offers a reasonably speedy way to dump pictures to your iPad, you'll want to consider how much space you have available on your tablet, and judge if it's enough to handle all that you might shoot. The iPad even works for raw shooters. But if you're shooting large volumes of raw files, you might need to go with an option that packs more storage.
There are a number of battery-powered, hard-drive based media storage devices that let you simply insert your card and hit a button to transfer your images. If you want a screen for viewing your images, grab the Epson P-3000 Multimedia Photo Viewer, which offers 40GB of storage with a 4-inch color screen for reviewing images. If you'd rather not spend so much, want a smaller device, and don't care about image viewing, then pick up a Digital Foci PhotoSafe.
Extra Memory Cards Storage cards are cheaper than ever right now, so you might consider simply buying a whole bunch of them. However, the cheaper cards may not be fast enough for your camera's video mode, so you'll need to investigate what speed you need if you want to shoot a lot of video.
Power You'll need a way to power all these gadgets. If you're staying in hotel rooms every night, you can simply gas things up there with the right adapters, if necessary. If you're going back-country, or traveling in a country where power is more questionable, then you'll need some portable power options.
If you'll have access to a car, consider getting a car charger for your camera. A quick search by camera type on Amazon should provide you with a number of inexpensive options, which usually include both a small replacement charger, and a cord for running off of a car cigarette lighter.
A Solio solar powered charger is a great option for taking photos while completely off the grid. Leave it sitting in the sun when you go off shooting during the day, and when you return you'll have a charged battery that can be plugged into your camera, iPhone, or other gizmo. Note that you need to have the right tip to adapt the Solio for specific devices (Solio includes one tip of your choice when you purchase certain chargers). Be sure to double-check that the Solio you're buying is compatible with your device. On a recent trip, I discovered that my old, first-generation Solio does not charge my iPhone 3GS.
Double-check your Insurance No matter how careful you are, things can happen to your gear whilst on the road. Your homeowner's or renter's insurance policy might cover your camera gear while traveling. However, some insurers will want you to document the gear that you're taking before you leave. Check with your insurance company before you go.
[Macworld senior contributor Ben Long is the author of Complete Digital Photography, fifth edition (Charles River Media, 2009).]