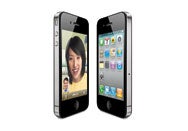 U.K. mobile provider O2 is warning prospective customers that they won't be able to acquire an iPhone 4 device until at least the end of July.
In an FAQ on its Website, the company states that supply of Apple's new phone will be so tight that only existing customers will be allowed to purchase one at launch. However, the concept of "existing customer" is not limited to current mobile users: O2 broadband users are included in the deal as well.
Customers who decide to enter into a contract with O2 are eligible for subsidized pricing— depending on which voice and data package they choose, in fact, they might even be able to get their handset for free.
Naturally, O2 is but one of several UK providers that will be offering contract-term prices for the iPhone 4: both Orange and Vodafone have announced that they will sell the device as well. In addition, Apple will sell unlocked, SIM-free versions of the device in the UK, albeit at full price, and these were, at the time of this writing, are slated to ship before July 14.
The U.K. is one of five countries in which the iPhone will officially launch on June 24. The others are France (the only other country where unlocked versions of the phone can currently be pre-ordered), Germany, Japan, and the U.S.
32GB iPhone 4 (GSM, AT&T)
Price When Reviewed:
$599
16GB iPhone 4 (GSM, AT&T)
Price When Reviewed:
$485