Bringing a new dog into the household can be a daunting task. First, you must decide which breed of dog would best fit your family's lifestyle, then comes the house breaking, training, health care, and other challenges that could make you want to forget the entire idea in the first place. Animal Instinct's DogBeMine aims to alleviate the headaches of pet ownership by giving you all the information you need to properly select a dog and integrate it into your household.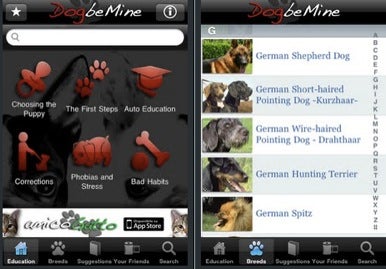 Designed to be an exhaustive pocket resource for current and prospective dog owners, DogBeMine features a breed guide that includes pictures and complete information on more than 200 dog breeds. It includes a guide to help you choose your first puppy, training tips, and recent news items from the dog-loving community. The app even lets you upload pictures of your own dogs directly to the a photo gallery for other users to see.
DogBeMine also features a search engine that provides maps and information about local services such as breeders, closest vets, kennels, and even pet friendly hotels. Search results are displayed with maps to the searched locations and can also be added to your contact list for quick recall.
Priced at $1, DogBeMine runs on the iPhone and iPod touch as well as on the iPad (though it hasn't been optimized for that device).