Linkin Park 8 Bit Rebellion requires some major suspension of your disbelief. You'll need to fight against the relentless waves of improving technology and graphics by playing a video game on your sophisticated iPhone or iPod Touch. You'll stick it to the man by joining a social network created to steer its members toward band merchandise and subtle corporate advertising. It might not make much sense, but Linkin Park 8 Bit Rebellion still offers up some enjoyable gameplay that your average teenage boy will love and your average user will at least put up with.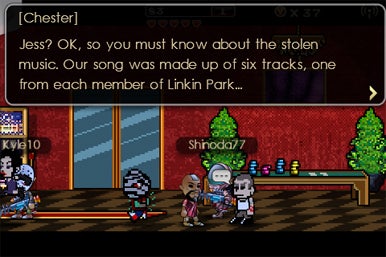 Based on the ideas and art of band Linkin Park band member Mike Shinoda and brought to the iTunes store by Artificial Life, Inc., 8 Bit Rebellion is a multi-level side-scrolling adventure game that doubles as an explorable world for the game's social network. The game's premise is probably one of its biggest strengths: In the world of 8 Bit Rebellion, an evil corporation called Pixxelkorp has been ruining video games with good graphics. An underground movement that seems to be led by the avatars of the six Linkin Park members has formed to fight Pixxelkorp and your character is tasked to help them save the day. To this purpose, the game features both high-pixel characters and graphics as well as low-pixel graphics reminiscent of early Nintendo or Duke Nukem.
The kicker, in both a good way and a bad way, is the soundtrack. Each different level plays an 8-bit version of a familiar Linkin Park song, which is entertaining for fans and non-fans alike.
The gameplay is pretty simple, even for an iPhone/iTouch/iPad interface. You press a side of the screen to have your character move and tap the center of the screen to have your character use their weapon, be it a ray gun or a good 'ol fashioned kick-in-the-shins. These moves come in handy when encountering the denizens of Linkin Parks' world: cockroaches, rats, fascist-looking PixxelCorp cops and street thugs.
In addition to jumping from room-to-room within parts of the 8 Bit world, you can also pull up a map of the game's city, which allows you to wander through dystopian versions of a city park, a casino district, a beach and more. The game's seven areas, each filled with distinctive characters and lots of rooms and stores, provides plenty to explore. As your character collects more points for defeating enemies, you can buy furniture and accessories to pimp out your pad, a kind of home base that you can show off to other members of the 8 Bit network.
The network is a world in itself where friends and strangers can get game points for interacting and bragging rights for sweet pads and awesome-looking accessories. Points can also be used for personal accessorizing; the store's mall offers rock-and-roll hairstyles, clothes and other cool stuff to add to your character's conspicuous consumption.
While the game's anti-corporate rock-and-roll premise doesn't completely jive with the heavy accessorizing and Linkin Park branding throughout the game, Linkin Park 8 Bit Rebellion makes for an interesting play. That said, this game was designed for a male pre-teen/teen demographic. Don't be surprised at the appearance of condescending stereotypes of overweight nerds, perky strippers and lots of references to alcohol.
[Bryan Schell is a frequent contributor to Macworld.]