One of the categories of apps the iPad is uniquely suited for is board games. With its generous screen and responsive touch controls, board games on the iPad are just as much fun as the real thing. Words With Friends HD, the iPad version of the popular Scrabble-like game for the iPhone, is no exception. Developed by Newtoy Inc, this addictive social board game is a must have for all iPad owners.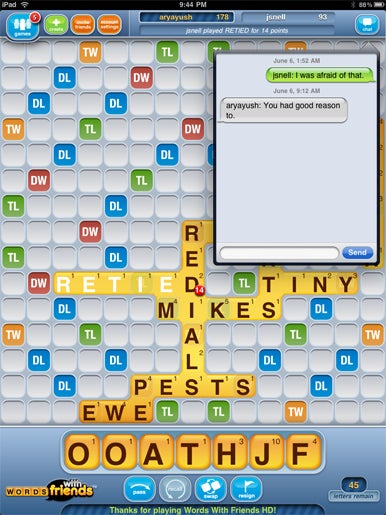 Words With Friends is designed to be a social version of the popular word-making game Scrabble. When you launch Words with Friends for the first time, it asks you to enter your e-mail address, username, and password, and sets up an account for you. It's a simple two-step procedure and you're never asked to go through it again.
Once set up, you have the choice to enter the username of other Words With Friends users to initiate a game against them, let the app automatically and randomly set you up against someone on its network, or start a local game of "pass and play."
This latter option, however, is clearly just intended to be another bulleted item on the list of features, because it is practically unusable. In Pass and Play mode, your opponent's tiles appear in the rack immediately after your play your turn, revealing all of them to you. The first time I tried to use the Pass and Play mode, I immediately gave it up after seeing this egregious lack of forethought and have never looked at it again.
There's a reason Pass and Play is given so little thought, however, as the developers clearly focused on creating a fun and engaging social experience. Words with Friends allows you to play up to twenty games simultaneously against players from all across the world. Players are encouraged to play their turn and then quit the app (rather than wait patiently for their opponent to make a play), only to be reminded minutes, hours, or days later by a push notification when their opponent plays their turn.
Over the past couple of weeks, I've consistently had five games running at a time and the game has worked flawlessly. You can pop into the app when a push notification arrives or dismiss it and play your turn later.
The biggest problem with the iPhone version of Words With Friends was the need to continuously zoom in and out of the board as you moved your pieces between the rack and the board. Thanks to the much larger screen on the iPad, you no longer need to do that, which makes the game much more playable. There is also a built-in chat feature for you to indulge in friendly batter with the person on the other end of the board.
About the only thing the game is lacking is support for landscape mode. While I understand that the square shape of the board makes it better suited for the portrait orientation, it's annoying to have to rotate your iPad just to play your turn in Words With Friends.
Even taking those quibbles into account, however, Words With Friends gets enough things right to be one of the best board games on the App Store. I have over thirty third-party applications on my iPad, fifteen of which are games, and Words With Friends is by far the most frequently launched app in the bunch.