In the time since the first iPhone was released, I've been one of Mobile Mail's biggest fans and its biggest critics. I'm a fan because, for an e-mail client on a mobile phone, Mail is surprisingly usable. But I'm a critic because, as good as Mail is, it's long had a number of glaring feature omissions that hamper its usefulness, and some of my biggest wishes for iOS 4 included filling those holes.
So I was understandably excited that Mail improvements received prominent mention during Apple's preview of iOS 4 this spring. Now that iOS 4 is here, it's time to take a look at the major improvements and new features in iPhone Mail.
Inbox options
Easily the most-requested feature for iPhone Mail (or at least the one I've heard the most over the past few years) has been a unified inbox—a single inbox that displays incoming messages from all your accounts. Mail in iOS 4 provides just that: The top level of the Mail-screen hierarchy continues to display a list of your Mail accounts, but above that you'll now find a new Inboxes section.
Tap the new All Inboxes item to see a list, sorted by date and time, of all the e-mail messages in the inboxes of all your mail accounts. Once you're in this list, you work with messages just as you would if you had navigated to a specific inbox. It's a welcome change, and one that will dramatically reduce the number of taps required by those anyone with multiple e-mail accounts.
On the other hand—that's a nice set of teeth you have there, Mr. Gift Horse—a day or so using this new feature reveals a few puzzling omissions. For example, when browsing All Inboxes, there's no way to tell which account received a particular message. And if, like me, you've set up an e-mail account to handle messages from mailing lists, places you've shopped online, and other "bulk" mail, you'll quickly wish there was a way to disable a particular account in the All Inboxes display.
Below All Inboxes, but still in the Inboxes section, you'll see your individual e-mail accounts. These items provide quick access to just the inbox for each account, letting you switch between individual inboxes without having to navigate down and up each account's hierarchical screens. This is a significant improvement that makes it easier to overlook the inability to disable accounts in All Inboxes.
When you want to navigate a particular account's list of mailboxes, you can use the Accounts section, now below the Inboxes section at the top level of Mail.
Multiple Exchange accounts
Speaking of multiple accounts, for people who need to access multiple Microsoft Exchange-hosted (ActiveSync) accounts—or who want to set up one or more Gmail accounts using ActiveSync, or even a combination of Exchange and other ActiveSync accounts—perhaps iOS 4 Mail's most-welcome new feature is support for multiple ActiveSync accounts.
In previous versions of iPhone Mail, attempting to set up a second ActiveSync account resulted in an error. Under iOS 4, it's as easy to set up multiple ActiveSync accounts as it is to set up any other type of e-mail account.
Threaded discussions
Like many other desktop and Web-based e-mail clients, Mail in Mac OS X offers a way to automatically group messages that are part of the same exchange or discussion. Mail on the iPhone gains such a feature in iOS 4.
When you receive a message in reply to a previous message that's still in your inbox, all the messages in the conversation are grouped into a single entry. This message displays a small numeric badge indicating how many messages are in the thread, as shown in the screenshot to the right. Tap this discussion item and, instead of viewing the contents of the previewed message, you see a list of all the messages in that conversation (or at least all that remain in your inbox—if you previously filed older messages elsewhere, they won't appear here).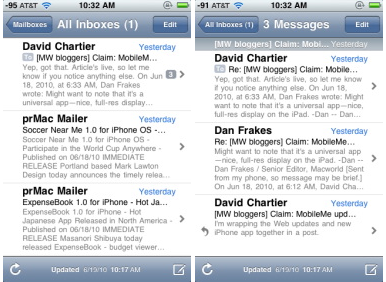 When viewing a discussion, the top of the message list shows the subject line of the first message in the conversation, along with the date of the most-recent message. Tap any message preview to view that message; tap the left-facing arrow at the top of the screen to return to your inbox. (Behaviorly, this feature is as if you created a new folder containing just the messages in the discussion.)
The threaded-discussion feature also works with messages filed into other mailboxes; however, a grouped message thread includes only messages residing in the same mailbox.
If, for some reason, you don't like this new feature, you can turn it off for all accounts—it's an all-or-nothing setting—using the new Organize By Thread setting in the Mail, Contacts, Calendars screen of the Settings app.
More options for viewing attachments
One of the most frustrating e-mail-related restrictions of the iPhone has been that while you can preview many types of attachments, there's been no way to open and edit those attachments. With the iPad, Apple included a new feature for opening attachments in other apps, including third-party apps. That feature is now available on the iPhone as well, and while it's not as useful as being able to save documents to a common storage area for access by any app, it's a big step forward.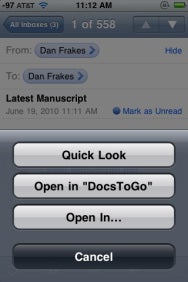 When you receive an e-mail message with an attachment, tapping that attachment's icon will, as before, display a preview of the document. But if you tap and hold, Mail presents additional options. The first is always Quick Look, which gives you the same preview as if you'd simply tapped the attachment's icon. Next is Open in [app name], which lets you open the attachment in the installed iPhone app that's presented itself as the preferred app for that type of file.
The third option is Open In, which lets you choose from among all the apps on your phone that claim (to the OS) that they're able to open that type of file. Of course, which options you get—the preferred app and the apps that appear when you tap Open In—depend on which apps you've installed on your iPhone. In addition, each app may handle such attachments differently: In some, the file may automatically be saved to that app's file-storage area; others may require you to manually save attachments if you want to be able to access them later.
While this feature generally works well, I often find that an app that should be able to open a particular attachment—for example, GoodReader for a PDF—doesn't appear in the list of Open In options. Along with other Macworld editors, I also experienced an issue where the first page of a PDF document displays inline, in the body of a message, with no way to view the rest of the document—the document never appears as a tappable attachment icon.
MobileMe alias support
One new feature that's easy to overlook is support for MobileMe e-mail aliases. If you've got a MobileMe account, you can create up to five e-mail aliases—essentially, additional e-mail addresses—that redirect to your main e-mail address. For example, if your official MobileMe e-mail address is janesmith@me.com, you could set up an alias of janesmithlists@me.com to use for mailing lists and another of janesmithshopping@me.com that you provide whenever you shop online.
If you've set up one or more e-mail aliases, Mac OS X Mail and the MobileMe Web interface let you choose, for each outgoing message, which address to use as the "From" address—your main account or one of your aliases. But before iOS 4, Mail on the iPhone could send only from your main address—the one listed in the settings for your MobileMe account. (OK, so this isn't completely true. There were kludgy workarounds that let you use aliases, but there were just that—kludges.) In iOS 4, you can now choose from among your MobileMe addresses just as if you were choosing from among multiple, separate email accounts: Before sending an e-mail message, just tap the From field—your MobileMe aliases will appear alongside your various e-mail accounts. Choose one and that alias is used as the From address for the message.
Note that if you were a Mac.com member who configured your aliases before Mac.com changed to MobileMe, the list shows both the old and new options for each alias: [alias]@mac.com and [alias]@me.com.
Notes syncing… wirelessly
The other big Mail-related addition in iOS 4 is wireless notes syncing. Apple added iTunes-based Notes syncing in iPhone OS 3, but you can now sync notes wirelessly between iOS 4 devices and your computer.
Unlike some wireless-sync features on the iPhone, notes syncing isn't limited to MobileMe accounts—it should work with any IMAP e-mail account. To turn on notes syncing for an account, go to the Mail, Contacts, Calendars screen of the Settings app, tap the desired IMAP account, and turn on Notes in the resulting settings screen. If you turn on notes syncing for multiple accounts, you can also choose (on the main Mail, Contacts, Calendars screen) which account is the default for syncing new notes.
How this new feature works can be a bit confusing. When you sync notes wirelessly with an e-mail account, Mail creates a new folder called Notes on the IMAP server and automatically syncs any changes to that folder whenever Mail checks for new mail (or, in the case of push accounts, whenever the server pushes an update to your phone). So if you create a new note or make a change to an existing note on your iPhone, those changes are synced to any other device—iPhone, iPod touch, iPad, Mac, Windows PC—configured to access that IMAP account.
This means that any IMAP account—for example, MobileMe, Gmail, or Yahoo, or one provided by your employer or ISP—can serve as a note-syncing server. It also means that you can view your notes in any e-mail client set to access that IMAP account: You just view the account's Notes folder to see your synced notes.
However, what you can actually do with those notes varies depending on the e-mail client. Obviously, iOS 4's Notes app can view and edit notes (although you can't change the account to which a note is synced once the note has been created). If you're using Mac OS X Mail, notes appear in a special Notes section and can be edited and moved between accounts. However, if you're using an e-mail client other than OS X Mail, or if you're using a Webmail client, you can only view synced notes—you can't edit them.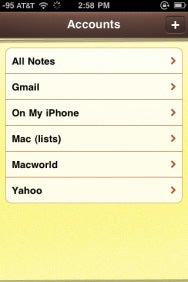 How do you decide the account with which a new note is synced? When you first launch the Notes app on your iPhone, you'll see a list of all your notes across all accounts. However, you'll also see a new Accounts button in the top-left corner of the screen. Tap this and you'll see a Notes version of the Mail app's accounts list: All Notes at the top, with each of your IMAP accounts (if you have more than one, of course) listed below. If you create a new note while in the All Notes view, the note is created in the default account, mentioned above. To create a note within a different account, you must first view the notes screen for just that account and then create the new note; any note created while viewing a specific IMAP account is synced to that account.
What's still missing
These improvements are all welcome, and they make iPhone Mail a much more capable mobile e-mail client. But, as with Mail on the iPad, there are still quite a few other features I use regularly on my Mac that would be useful on the go. Here's my current list, which has a lot in common with my wishlist for the iPad's Mail app:
A "Mark All As Read" command
The capability to send to groups
The capability to create and edit folders on the iPhone
Smart Folders, similar to those in Mac OS X Mail
Flagged status
Local spam filtering
Multiple signatures (or a separate signature for each account)
More text options: additional fonts, forced-plain-text viewing, the choice of top or bottom quoting, to name a few
Despite these omissions, Mail on the iPhone is significantly improved in iOS 4. In fact, as I explored the app, I kept thinking of what I said when covering Mail for the iPad a couple months back:
Mail remains a solid mobile e-mail program. While it has its limitations, especially for power users, it gets most of the basics right, and it excels at the most important tasks: viewing and composing messages, displaying attachments, and connecting reliably to nearly any e-mail server.
Thanks to the iPad's larger screen, iPad Mail offers huge—no pun intended—advantages over Mail on the iPhone. But when it comes to features, Mail on the iPhone has jumped ahead. Which bodes well both for iPhone users and iPad users, given that the latter should gain these same features when iOS 4 comes to the iPad later this year.
[Dan Frakes is a senior editor for Macworld.]