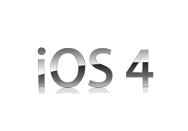 The latest update to Apple's mobile operating system arrived on schedule, with iOS 4 becoming available as a download on Monday. As with past OS updates, iOS 4 delivers an array of new features and enhancements to some old favorites. But things are different this time as well—Apple is no longer charging iPod touch owners to upgrade. Then again, some customers with older devices won't be able to upgrade at all—the first time that's happened since the 2007 debut of Apple's mobile OS.
Confused? Don't worry—we've got all the information on iOS 4 you need. Our iOS 4 review provides a comprehensive run-through of all the major enhancements and additions in this update. But for quick answers to your burning iOS 4 questions, read on.
What's with the name? I thought it was called the iPhone OS.
It was, back when Apple first took the wraps off the new OS in April. But that changed this year at the Worldwide Developers Conference, when Apple CEO Steve Jobs announced the name change. And it makes sense—while iPhones certainly run the operating system, so do the iPod touch and iPad. Apple doesn't provide definitive numbers on this, but we'd be willing to bet a good portion of the devices that use its mobile OS aren't phones at all. Hence, the name change.
What's new in iOS 4 beside the name?
The short answer is "plenty." Apart from the touted 1500 APIs aimed at developers, regular users can count on finding a purported 100 new features and enhancements in this release. The highlights include support for multitasking; folders for organizing apps; Events, Places, and Faces in the Photos app; and lots of Mail enhancements such as a unified inbox and threaded conversations. Other new features include Quick Look for attachments, opening e-mail attachments in other apps (for example, opening a PDF attachment in GoodReader or iBooks 1.1), editing iPod playlists right on the device, and searching the Web or Wikipedia from the Home screen's Search panel.
Will my existing applications work on iOS 4?
Most applications should run as they did under the old OS, without any need for updates from their developers. But apps won't be able to take advantage of the new iPhone 3GS- or iPhone 4-specific multitasking features without their makers doing at least a little work and releasing new versions. That said, a small handful of apps seem to have trouble running on iOS 4, but updates are pouring into the store—chances are good that your app will either run fine as-is or get an update in short order.
How do I upgrade my iPhone or iPod touch to iOS 4?
As with previous major iOS releases, Apple has made the upgrade process fairly simple. Just plug your device into iTunes, and then sync it to create an up-to-date backup. (You can never be too safe—if iTunes doesn't back up your iPhone automatically, right-click on the phone in iTunes' sidebar and choose "Back Up.")
iTunes should notify you that a new OS version is available. If it doesn't, click the Check for Updates button on your device's Info page. A dialog box will tell you about the new version, and after clicking OK, iTunes will download and install iOS 4 automatically.
So upgrading is pretty painless?
Well, let's not go that far. Once the download completes, iTunes will immediately start upgrading your iPhone's firmware. Once that process completes—which shouldn't take more than 10 minutes—your iPhone will reboot.
When the iPhone starts back up again, iTunes may choose to immediately back it up. Once that completes, the iPhone will reboot a second time, after which iTunes will briefly attempt to "verify" your iPhone's upgrade.
After all that, the wait will be finally be over: You can unlock your iPhone and start checking out iOS 4. Don't be alarmed if things look a little funny, since the OS will, by default, use your lock-screen wallpaper as your Home screen background, too—assuming that you've got a device that supports that new feature. (You can tweak that in the Settings app.)
I own an iPod touch. How much is it going to cost me to upgrade?
Not a thing. True, in the past, iPod touch owners had to pay a fee that was either nominal or infuriating, depending on your point of view. (The iPhone 3 update, for example, set iPod touch owners back $10.) The reason for the charge involved accounting rules: Apple recognized iPhone revenue on a subscription basis, counting the money it got over a two-year period. The nitty-gritty details are probably interesting only to accountants (and even then, not very much), but the end result was iPhone users could download major OS upgrades for free, but iPod touch users had to pay. However, last fall, the Financial Accounting Standards Board OK'd new rules on how companies could report revenue on subscription-based devices. Apple quickly (and happily) adopted those new rules for its 2010 fiscal year. So this time around, iPod touch owners don't have to break out their wallets for an iOS update.
I've got an iPhone 3G. Should I upgrade?
You could, but you'll need to manage your expectations. The iPhone 3G will run iOS 4, but some key features won't work because the hardware simply won't support them. We've seen some reports of iPhone 3G beta testers saying the 4.0 update made their phones run slower, though we haven't noticed any performance hits to 3G phones. You might not want to update until you have a truly compelling need.
So what features won't I get if I have an iPhone 3G?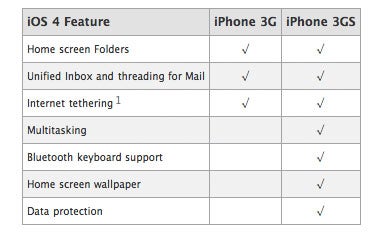 The most significant feature missing-in-action for iPhone 3G owners is multitasking—you'll still have to quit out of one app to run another as you did with iPhone OS 3. You also won't be able to change your Home screen's wallpaper the way iPhone 3GS and iPhone 4 owners can. And you'll have to make do without Bluetooth keyboard support. Since there's no multitasking, the app-switching menu that appears when you double-tap the home button on multitasking-capable devices won't appear—meaning there's also no way to access that menu's quick iPod controls or orientation lock. (Tapping twice on the home button will still bring up the classic floating iPod controller, however, so it's really only the orientation-lock feature you'll miss.)
If there's a bright side, it's that misery loves company: second-generation iPod touches won't support those iOS 4 features as well. Speaking of misery…
Will iOS 4 run on my original iPhone or iPod touch?
Unfortunately, original iPhone and iPod touch models cannot run iOS 4. In the past, Apple has made each iOS upgrade available to all previous generations of each device, but the company has deemed that the newest OS version requires too much overhead for the original iPhone and iPod touch to run it. It's kind of like the line-in-the-sand upgrade you experience whenever Apple updates Mac OS X—sooner or later, an older Mac simply cannot run one of the major OS X upgrades because the software requires more memory or horsepower or introduces new technologies that the hardware cannot support.
How about us iPad owners? Surely, we'll be able to take advantage of all of iOS 4's features.
You sure will—except you won't be able to do so until later this year. Apple doesn't plan on making iOS 4 run on its tablet until the fall. We'd love to give you a more definitive time frame, but that's as specific as Apple has been. If it's any consolation, iPad owners, you've already gotten to experience some of the features that iPhone and iPod touch users will only be able to access now, such as custom Home-screen wallpaper and the ability to open mail attachments in other apps. Those features debuted on the iPad before working their way to the iPhone and iPod touch via iOS 4.
Other phones already feature multitasking. Why is Apple only getting around to adding it now?
Sometimes Apple is first to bring a feature to market, and other times, Steve Jobs says, Apple is the "first to do it right." Multitasking on iPhone is the latest example of Apple waiting to implement a feature until it could overcome one of the greatest challenges, in this case battery life. A single application—a streaming Internet music player, a GPS location tracker, or a simple newsreader—can take a decent bite out of your iPhone's battery. Multitasking in iOS 4 will allow more than one application to take a swipe at your battery at the same time—you can upload multiple photos to Flickr while streaming music with Pandora over 3G and downloading articles in Instapaper. Apple wanted to wait until it could fortify iOS to properly manage the balance between data-gobbling smartphone applications and getting your iPhone through the day.
How does multitasking work?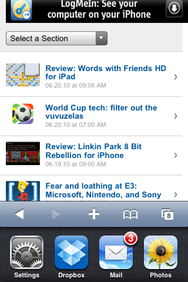 Multitasking in iOS 4 isn't quite like multitasking on your Mac, where any application is essentially free to do whatever it wants in the background. Instead, iOS 4 allows applications to perform some key tasks in the background, like playing audio, checking your GPS location, or uploading pictures. But save for a handful of tasks in very specific cases like the ones we just mentioned, most apps will actually use another iOS 4 feature called "Fast App Switching" to simulate the effect of multitasking.
Fast App Switching allows an app to save exactly what you were doing when you switch to another app. For example: Say you start jotting down some ideas in Evernote, then switch to Settings to turn down your display's brightness, then answer a phone call before you get to your preferred brightness. Settings and Evernote don't really need to continue running in the background during that phone call because they're not doing anything. But when you switch back to them, they should return you to the exact screen, or the exact character in a sentence, where you left off. As long as an app is optimized for iOS 4's multitasking and Fast App Switching features, it will finally provide this convenience.
Double-pressing the phone's Home button brings up a Dock with recently used apps; users can switch between them without having to return to the Home screen. This should work for games, text editors, newsreaders, and just about anything else you can think of.
What's this new Folders feature, and why should I care?
Folders is Apple's answer to App Store Fatigue—a growing epidemic caused by apps spreading across an almost untenable number of iPhone and iPod-touch Home screens. Instead of cutting back on purchasing or keeping apps installed, iOS 4 lets you group multiple apps into a folder, a single icon on the Home screen that, when tapped, expands to reveal the apps inside.
Macworld's Dan Frakes has an extensive look at the folders feature elsewhere on the site, but here's a quick overview of how it works. Simply drag one app onto another to create a folder—iOS 4 will even name the folder based on the first two apps you pair to create it (though you can customize the name if you want). You can organize folders in any way you see fit and you can even add them to the Dock. Since each folder can hold up to 12 apps, you can now now have 240 apps on a single page, or a whopping 2,160 apps across all 11 supported Home screen pages.
You mentioned changes in Mail. What's new there?
Mail received quite a bit of attention in iOS 4, finally gaining some features that users have asked for since the original iPhone in 2007. Like its desktop counterpart, Mail in iOS 4 now has a unified inbox (though fret not, purists: you can still view individual inboxes as before) and threaded conversations. iOS 4 also brings the File Sharing feature (which originally debuted on the iPad) to the iPhone. For example, you can open a Microsoft Word e-mail attachment in a third-party app such as GoodReader or Documents to Go. Mail has also gained support for MobileMe e-mail aliases and multiple Exchange accounts for business and Enterprise users.
Again, Dan Frakes has all the details about the changes to the Mail app.
Is that all I can expect from iOS 4?
Not by a longshot. The updated OS lets you use a real password instead of a four-digit pin to secure your iPhone. There's also a newly updated version of iBooks that now runs on the iPhone and iPod touch. You can make Bing the search engine of choice for the Safari browser instead of either Google or Yahoo, and there's now a spell-checking feature for Mail, Notes, and other apps. And as we've already mentioned, if you've got an iPhone 4, iPhone 3GS, or third-generation iPod touch, you can change your Home screen's wallpaper or use a Bluetooth keyboard with your mobile device.
As for enhancements to existing apps, Heather Kelly covers the changes to the Photos and Camera tools while Christopher Breen outlines what's new with the multimedia capabilities in iOS 4. Note also that you can now use the Spotlight search tool to look up things on the Web or on Wikipedia, and that Messages gets a few minor enhancements as well.
We could go on at length, but this is supposed to be a brief overview. Our iOS 4 review has more details, and we'll have plenty to say about less heralded features in the next few days.
Did Apple remove any features with iOS 4?
A few things are gone, but we'd wager you won't miss them. For devices that support multitasking, double-clicking the Home button no longer summons up iPhone controls, jumps to the Home screen, or brings up a list of Phone favorites—double-clicking is the domain of multitasking now. (The double-click of the Home button works the same as it did before on the multitasking-free iPhone 3G and second-generation iPod touch.) When you delete an app in iOS 4, you no longer get the option to give it a mouse rating before the app disappears into the mists of time. And, as noted in our article on changes to the Photos app, you no longer can copy an unlimited number of images: iOS 4 users can upload one photo at a time to MobileMe, select a maximum of five images to e-mail or copy, and text as many as nine images in one message.
What if I don't like iOS 4? Can I downgrade to iOS 3?
Perhaps the best answer to this question is "kinda." Apple offers no official downgrade path for iOS, largely in part because each upgrade makes significant changes to firmware—the low-level chips that power things such as the wireless radios for making phone calls and transmitting data.
However, the "jailbreak" community that creates tools for making unsupported modifications to iOS usually devises a way to perform such a downgrade. Like Macs, though, an iPhone can only be downgraded to the version of software that it shipped with. For example: an original iPhone 3G may be able to be downgraded to iOS 2.x, and an original iPhone 3GS might be able to be downgraded to iOS 3.x. But an iPhone 4 will only be able to run iOS 4. It is also worth reiterating that these jailbreaking tools are not supported in any way by Apple. In fact, the company reserves the right to void your device's warranty if it discovers that you have used such tools, so tread carefully.
All things considered, it is rarely worth the effort to downgrade to a previous iOS version. If you are having troubles with a new version of iOS, your best bet is to seek official help from Apple, ask for community assistance in our Macworld forums, or simply try to make due until Apple inevitably releases a bug-fixing update.
[Updated 3:43 p.m. PT to add detail about missing iPod controls and orientation lock on 3GS and 2G iPod touch models.]