If you use Google's Picasa web albums to share photos, you'll want to be able to access that online photo-sharing service from your iPhone or iPod touch. Uvento's iPicasso app is a simple way to upload and view your photos from your mobile device.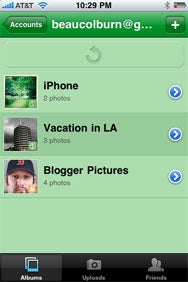 The simple interface of iPicasso makes the app easy to use without being distracting. When you launch the app for the first time, you're prompted to enter your Picasa login credentials. After you do that, you're greeted with a list of the albums that you have created. As you view an album via iPicasso, you can easily edit, delete, or comment on photos. You can also e-mail a link to the album or send an individual photo.
If you prefer to create a new album from your iPhone—say you're on vacation without your computer and you'd like to have a new album of images from your trip—you can easily do that by tapping the familiar Plus (+) button in the top corner. You can name the album, add details, and choose the privacy settings. The only hiccup that I noticed was that the album thumbnail didn't appear until I actually accessed the album from a browser (on the iPhone or desktop).
Uploading is a critical component of any photo service's mobile app, and that's handled very easily in iPicasso. When you're ready to upload your images, you simply tap the Uploads button on the bottom navigation bar. You then select which album you would like to upload to and choose either to take a new photo from within the app (if you're using an iPhone with a built-in camera), or, more likely, to select an existing image from the Photos app.
After selecting your image, it's added to an upload queue—handy for when you want to upload more than one image at a time. Once your queue is complete, you tap the final Upload button, and all the photos get added to your Picasa album. One missing feature involving uploads is the ability to name the image. You can go back and edit the image name from within the album, but it would be a nice time-saver to be able to do that when you upload your images.
iPicasso has room for minor improvements. But if Google's Picasa photo service is your online photo sharing outlet, you'll be pleased with this simple and functional app.
[Macworld contributor Beau Colburn lives in Boston and posts iPhone photos on his site Snap different.]