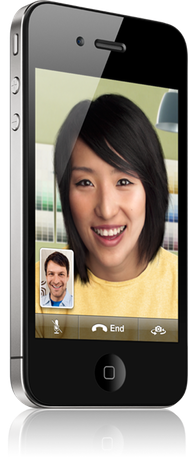 Apple has confirmed that FaceTime, iPhone 4's new video chat feature, will not consume any minutes of cellular airtime once activated.
A company spokesperson told Business Insider that all cellular voice use is terminated as soon as a FaceTime connection is established between two phones, and all subsequent communication happens through Apple's own transmission protocol over Wi-Fi.
FaceTime, which is was introduced as a new feature in the upcoming iPhone 4, allows two phones to connect to each other and turn a phone call into a video chat. The video communication system works only over a Wi-Fi connection, meaning that FaceTime calls won't use any cellular data, either.
Video chat is certainly not a new feature, even in the mobile world, but Apple's implementation, which was first announced by company CEO Steve Jobs during his keynote at Apple's recent Worldwide Developers Conference, is seamlessly integrated with the phone's cellular calling capabilities. Therefore, users can initiate a FaceTime call as a simple extension of a normal phone conversation—provided, of course, that both use handsets that are FaceTime-compatible.
Currently, the video chat system is only supported by the new iPhone 4, but, according to Jobs, Apple will propose FaceTime as an open Internet standard; if adopted by other companies, the technology's underlying protocol would allow devices from different manufacturers to communicate seamlessly with one another.
FaceTime may make the jump to cellular networks eventually—Jobs hinted as much during his presentation—but that day is still a ways off at present, so questions of billing and data usage in that scenario are premature.
16GB iPhone 4 (GSM, AT&T)
Price When Reviewed:
$485
32GB iPhone 4 (GSM, AT&T)
Price When Reviewed:
$599