When Apple rewrote iMovie for its iLife '08 release, its primary motivation was to create a video editor that was faster at assembling and cutting together clips, as well as remove some of the bottlenecks that left people tapping their fingers—like waiting for transitions or effects to render. As a result, iMovie '08 and iMovie '09 are pretty speedy in terms of performance, even on my 2006 MacBook Pro.
There are still plenty of opportunities to perk things up, though, mostly in terms of cutting down the time it takes for you to do things, or offloading operations that can process while you're away from the Mac. Here are six suggestions:
1. Optimize video. If you shoot with a Flip camcorder or other camera that saves video as MPEG-4 files, you can improve iMovie's playback performance by converting the clips. Although iMovie can play those files, it has to work harder to fill in gaps that are removed as part of the camera's compression process. Choose File->Optimize Video, and then choose either Full-Original Size or Large-960×540. iMovie converts the files to AIC (Apple Intermediate Codec), the program's preferred editing format. You can also choose to optimize video during the import process, although that increases the initial time spent adding the video to iMovie's library.
2. Analyze for image stabilization. Perhaps the most time-consuming feature in iMovie '09 is image stabilization. The software examines every frame of a clip and determines the best way to zoom and crop it so when it's played back, the image isn't shaky. You can analyze the clips during import to get it out of the way; this could take three to four times the length of the clips themselves, so it's good to start and then go do something else. Or, double-click a clip in the Event Browser and, in the Clip Inspector, click the Analyze Entire Clip button.
The alternative is to analyze clips while you're editing. The benefit here is that you can analyze just the portion you've added to your project; but if you add more to the clip, the footage must be analyzed again.
3. Quickly edit clip ends. If you need to extend or cut a few frames from the start or end of a clip, don't bother opening it in the Clip Trimmer or Precision Editor. Instead, hold Command-Option and drag the clip edge for as many as 30 frames.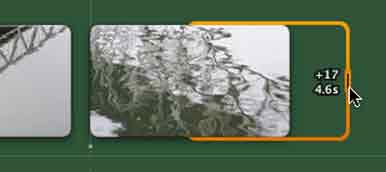 4. Automatically create transitions. If you're looking to throw something together really quickly, let iMovie do some of the work. When you create a new project, turn on the option to automatically add transitions between clips. You can also enable this option later while working on the project.
5. Set timing options. I forget about this option sometimes, and then I have to spend a silly amount of time extending the duration of my transitions from the 0.5 second default. Go to File->Project Properties, click the Timing button, and drag the Transition Duration slider to something more reasonable, like 1.0s. If Automatic Transitions are enabled, the change affects all transitions in the project. This dialog also contains all sorts of potential speedups, such as how photos are treated (with the Ken Burns effect or cropped, for example).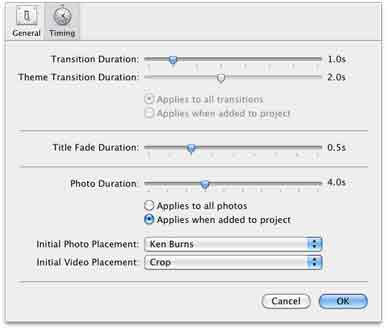 6. Add a helper program. A vast time sink in digital video is the time it takes to export and encode video. If you're exporting often, you can dramatically speed up encoding with Elgato's Turbo.264 HD, a graphics processor housed in a USB dongle. When outputting using iMovie's Export to QuickTime option, I saw the Turbo.264 HD create a movie in less than a quarter of the time it took to create a comparable version using the computer's processor alone.
Video editing is a time-intensive process, so it's great to shave some time here and there so you can focus on the content.
Jeff Carlson is the author of iMovie '09 & iDVD for Mac OS X: Visual QuickStart Guide (Peachpit Press; 2009) and the managing editor of TidBits.