Solar Walk, a hybrid app for the iPhone and iPad, is simply amazing. The $3 app from Vito Technology lets you explore our solar system in exquisite detail. You can pinch and zoom around the heavens, examining celestial bodies in an immersive 3D environment from any angle or perspective.
Having this control over the universe at large, at your fingertips, really is magical. Solar Walk starts with a view of Earth, but you can pan and zoom around to any planet, moon, or the sun, and recenter your focus there. By default, you'll be seeing those space objects as they look right now, with the proper portions illuminated by the sun.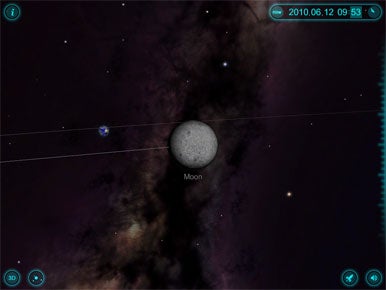 Tapping on a different object recenters your view on it. You can zoom in deep on, say, Jupiter's moon Europa, checking out its orbital path. As you slowly zoom out, other bodies—Uranus and Neptune, for example—will slowly come into view. (As you deal with objects that are greater distances apart, you'll need to zoom for progressively longer to find them.)
Whatever you're looking at, you can tap the info button to reveal a panel with one or more screens full of information about it.
One feature I wasn't able to test was Solar Walk's true 3D mode; if you own a pair of the dorky red and blue glasses, you can apparently see Saturns rings and other space stuff hovering above your iPad. It's a neat visual trick, a Macworld colleague who's seen that feature tells me, but hardly vital to your enjoyment of the app.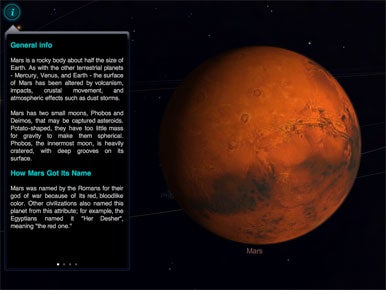 As I said at the outset, Solar Walk is magical, particularly on the iPad. The iPad already feels like the future, but holding all of space in your hands—touching faraway planets with your fingertips—feels like something out of The Jetsons.
Solar Walk's sibling app is Star Walk for iPad, a virtual planetarium and big-screen successor to the iPhone app of the same name. Star Walk's astronomic breadth of astronomic data is impressive: you can explore more than 9,000 stars, constellations, planets, and other celestial bodies.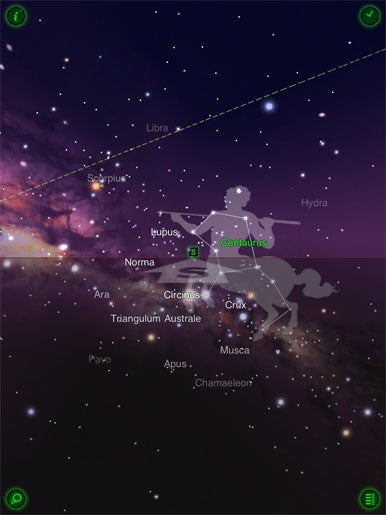 Like the similar Pocket Universe for the iPhone, the app shows you the stars in the sky as they look right now. As you swing your iPad around, Star Walk uses the digital compass to help guide your stargaze in the right direction, showing you where you can spot Cassiopeia, Orion, and oodles of other constellations in the nighttime sky. Armed with your location and the current time, Star Walk does an impressive job of recreating approximately how the stars should look for you—assuming minimal light (and dirt) pollution and cloud cover.
As in Solar Walk, you can zoom deeper and deeper into the sky and pan all around; you can tap the info button to read more about the selected object; and the app's simple interface paired with its amazing, visual data is jaw-dropping. In Star Walk, though, your view is stationary: you're looking up at the sky from a single vantage point, then you can obviously "spin" around and zoom. That's different from Solar Walk, where you can rotate around all the planets you're looking at to see things from other angles.
Star Walk also provides a single-screen space dashboard, showing you when the sun (and potentially-visible planets) will rise and set at your location, along with the current moon phase. In addition, the app sports a "Picture of the Day" feature, with photographs of planets, nebulae, and the like. The interface for browsing those photos is a little clunky—you can't swipe to the next image if you're viewing the first one fullscreen, so there's a lot of zooming in and out—but the photos themselves are awesome.
Both apps are tremendously impressive. If you only want to buy one, I'd recommend Solar Walk, since its imagery is even more immersive. But don't limit yourself: buy both. Star Walk too is remarkable to use and explore. If the sky's the limit for amazing iPad apps, that suits me just fine.
[Go across the universe with Lex Friedman at his blog.]