Let's face it: there just aren't a lot of female super heroes. And though I like Lara Croft and adore Princess Peach, women in video games are also quite scarce. Well, you can add Princess Fury, the heroine of her own brawler action game from Mo-star/Ultizen Games, to the elite group of female protagonists in gaming. Princess Fury rocks both a tiara and a massive sword—so you know she means business.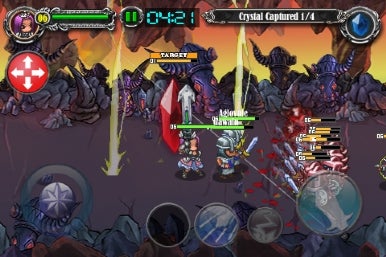 Bright purple hair and frilly dress aside, Princess Fury lives to kick ass and take names. An "evil overlord" has invaded her vibrant, fantasy arcade world with an army of medieval robots, skeleton archers, and massive beasts wielding morning stars. Using cartoonish 2-D graphics, the gameplay is reminscient of early 90s arcade games like Final Fight, Streets of Rage, and X-Men.
Princess Fury responds to the evil invasion the only appropriate way: with violence. The gameplay is essentially you slashing through masses of enemy soldiers, furiously tapping away at the iPhone's screen until they all burst into a bloody mess. Unfortunately, the controls are dual-stick and thus are inevitably cumbersome.
The left joystick controls movement and makes moving to confront enemies a real chore. The right joystick changes your direction and swings your sword with each tap. Frustratingly, your thumbs on the controls will sometimes block the action and keep you from seeing what you're actually doing.
Once you've passed enough stages to pick up some special powers, onscreen buttons unleash your thunderbolt, power smash, and other skills designed to take out multiple enemies at a time.
You can also acquire servants with fun names like Gawain and Aglovale, whom you can direct to surround you or disperse with a red/blue onscreen button. A detailed tutorial is always available to take you through the ins and outs, but the early stages of the game have many prompts and directions to help you out.
There aren't any extras like multiplayer or difficulty modes, but the game's progression, time limits on each level, and periodic bosses keep things sufficiently interesting. Sometimes you're guarding a crystal, other times you're just trying to kill everything in sight. Your progress is saved at the beginning of each stage, so it may not be ideal for playing in short bursts or exiting suddenly.
Princess Fury's $2 price tag is perfectly reasonable for the quality of its graphics and gameplay. Despite the unfortunate state of its controls, it's a worthwhile game for anyone who likes action games, or just likes girls with major sword skills.
[Meghann Myers is an editorial intern for Macworld.]