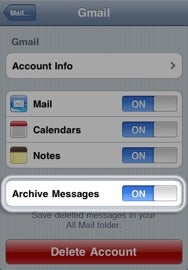 Apple made quite a few changes to Mail in iOS 4, many of which we covered in our Mail hands-on and our complete iOS 4 review. One thing we didn't mention, however, is official support for Gmail's archive feature.
One of Gmail's best features when it debuted in 2004 was the ability to archive e-mail. Instead of deleting messages—and possibly regretting it at a later date—archived messages are hidden from your main inbox and your labels (Gmail's version of folders), but kept available and searchable in an "All Mail" section. Apple recently added this archive feature to MobileMe Mail (though only on the Web for now) after testing it in a month-long beta period.
Since most e-mail services and clients, including Apple's, do not play well with Gmail's archive feature, Google has had to maintain support documents that detail custom Gmail setup instructions.
But in a new support document, Apple details that it now officially supports Gmail's archive feature in iOS 4. When swiping across a message in a Gmail account (and, presumably, a Google Apps account running on your own domain), the red "Delete" button will instead be labeled "Archive." Tapping the trash icon when reading a message also performs an archive instead of a delete operation, as does deleting multiple messages using Mail's Edit button.
You can disable archiving for your Gmail account under Settings > Mail, Contacts, and Calendars. Tap your Gmail account, then toggle the "Archive Messages" switch (pictured). It is worth noting that this feature is turned on by default when adding a Gmail account, though it does not appear during initial setup, despite options to activate Calendar and Notes syncing.
It's great to see Apple support such a popular feature of a competitor's service. Hopefully, this means that archive support will also arrive for MobileMe accounts in a future iOS 4 update.