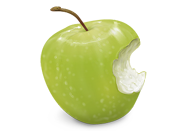 When it was released in 1984, the tagline for Macintosh was, "The computer for the rest of us." With fairly limited (but unique) capabilities and a relatively high price, it wasn't quite clear who "the rest of us" really were. Given the Mac's natural affinity for graphics and the fact that unlike other computers of that era, Macintosh did not ship with a programming language, the core audience that gravitated to the platform were artists and other creative types.
Traditional PC users wanted nothing to do with Macintosh. The business market, firmly entrenched with IBM technology, voted for MS-DOS and Intel architectures that more closely fit its needs. Apple computers, with odd proprietary protocols and incompatible software, had no business in business for the most part. The only real exceptions were niche vertical deployments, usually somewhere in the art or publishing departments. Unless there was an Apple champion with organizational clout, you were unlikely to find many Macs in corporate America in the '90s.
Eventually, Macintosh became a counter-culture all of its own within the digital world. User groups offered places to learn and exchange information in a world dominated by the IBM PC, and Macworld Expo became the global gathering points for the faithful who felt Macintosh was more than a PC and Apple not just another company.
One only needs to watch the wonderful documentary " Macheads" to get a sense of the passion and fandom that's usually not seen in the world of consumer electronics. (Actually, watching "Macheads" I got the sense that Macintosh enthusiasts were put on the planet to make the Trekkies seem mainstream by comparison.)
The problem for Apple was that playing to the hard-core user base wasn't really working for them. For one, there just weren't that many hard-core users out there. What was worse, many hard-core users loved their machines so much, they replaced them at a much lower rate. That's a nice demonstration of loyalty, but it doesn't do much for the bottom line.
As the iPod crossed from Mac accessory to a mainstream device that could be used by Windows users as well, Apple began to shift its focus to the larger market. Switching to the Mac didn't mean "thinking different" anymore—but it did mean one could get an arguably better computing experience. A move toward open standards and protocols, a shift to Intel-based processors, and the ability to run Windows natively made Apple more appealing to business and at the same time made the platforms more palatable to consumers who could view the purchase as essentially "safe" even if they never needed to run Windows or connect to an Exchange server.
Likewise, when the iPhone was introduced, Apple took the device beyond the traditional market for smartphones (namely business users and enthusiasts) directly to the mass market. It worked. For the mainstream user buying Apple meant buying a quality product, not buying into a cult or becoming an Apple fanatic.
You would think Apple's recent success would be most appreciated by the longtime users and enthusiasts. Oddly, it's often not. I get emails asking me to attack Apple for ignoring the faithful and chasing the mass market. "We were the ones who bought early on," they cry. "We're the ones who stood by Apple in the dark days of Michael Spindler. We bought Newtons!"
Sadly, folks, it's time to move on. Apple isn't building products just for you, and Steve Jobs and Phil Schiller aren't members of your family. I have no doubt Apple respects and even admires those of you in the tens of thousands who have been long-time supporters. I also know that Apple, like any company, would dump tens of thousands of die-hard fans for tens of millions of happy consumers any day of the week.
So while you might bemoan the great unwashed masses who now use Apple products but can't name five Apple employees beyond Steve Jobs, remember that if it wasn't for them, that cool new Apple device might not have made it to to market and you just might be using a Windows 7 PC.
In the end, that original tagline became a reality. Apple products truly are for "the rest of us," and will continue to be so as long as Apple continues to deliver and raise the industry bar.
And who knows? Maybe the cycle will repeat itself. As more and more consumers embrace Mac, iPhone and iPad, and switch from other products, we might even see the rise of even more hard-core users in the long run. After all, converts usually make the best zealots, don't they?
[Analyst Michael Gartenberg is a partner at the Altimeter Group.]