Sure, you may not have gotten a review unit direct from Apple and you may not be one of the lucky souls receiving an iPhone 4 in the mail as we speak, but look on the bright side—you can now browse through iFixit's detailed teardown of the device, posted late Tuesday evening.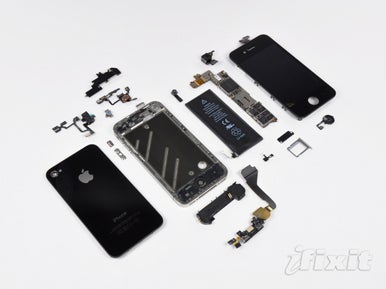 iFixit did its usual thorough job disassembling Apple's newest phone, noting that it had a "fairly easy time taking it apart," with no problematic or overly fragile pieces holding components in place. The unlucky iPhone 4 slated for dissection was a black 32GB model, though iFixit was surprised to find no capacity notation on the back of the phone—a first for one of Apple's mobile and music products.
As for tech specs: iFixit was able to confirm that the iPhone 4 does in fact run on the same 1GHz A4 chip as the iPad, and also confirmed the existence of 512MB of RAM within the device—a jump up from the 3GS and iPad's 256MB.
Additionally, the iPhone's front glass panel appears to be made out of Corning's Gorilla Glass, chemically strengthened to resist damage and scratches.
For a more detailed breakdown of the device (and a showcase of just how tiny that VGA FaceTime camera is), head on over to iFixit, or if a full technical analysis is more your style, Chipworks is working in partnership with iFixit to get a detailed look at the hardware.
32GB iPhone 4 (GSM, AT&T)
Price When Reviewed:
$599
16GB iPhone 4 (GSM, AT&T)
Price When Reviewed:
$485