Regulating your child's Internet access has never been easy, and with more and more kids owning mobile devices like iPhones and iPod touches, this task has only gotten harder. Fortunately, parents are far from powerless when it comes to overseeing their children's mobile internet usage. McAfee's new McAfee Family Protection for the iPhone, iPod Touch, and iPad lets parents control and monitor how their kids acces the Internet on their mobile gadgets.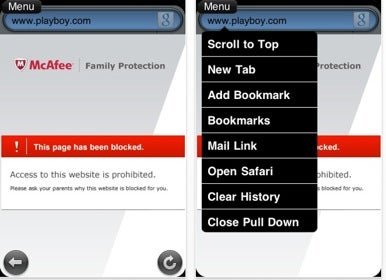 McAfee Family Protection, which sells for $20, is essentially a Web browser app with a number of parental control features built-in. This means that in order for it to be effective, you must disable the Safari app on your kid's iPhone by accessing the iPhone's Restrictions settings.
McAfee Family Protection offers standard Website and search filtering; it automatically blocks age-inappropriate sites, such as known pornography sites. For the extra-concerned parent, the program includes location-tracking for devices that are equipped with GPS, so you can be aware of your child's location whenever he or she is accessing the Internet.
Parents can also view usage statistics, like visited Websites and access times, and give or grant access to Websites of their liking. They can even remotely disable all Web browsing if need be. Another nice feature is the ability to block mobile Internet usage only during hours that you deem inappropriate, so you can be sure little Johnny isn't checking his Facebook account in class, or surfing the Web past bedtime.
This release coincides with the publishing of McAfee's study on teen online behavior called "The Secret Lives of Teens". Nearly half of the teens in the study have shared personal information with strangers while online. In addition, 28 percent of kids update their status on social networking sites to include their physical location—a potentially dangerous combination for teens who communicate with strangers. Furthermore, 65 percent of students revealed that they use their mobile devices at school. In light of these facts, now is a better time than ever to make sure your kids are using the internet safely, mobile or not.