Whether it's a week's trip to the country or a three-month break from school, you'll enjoy your vacation more if you take a few preliminary steps to ensure that things will run smoothly in your absence, and that you can handle any crises that may come up. Here are five things you should be sure to take care of in the hours before you leave your desk.
1. Update your backups
Murphy's Law dictates that disaster will strike when you're least prepared for it. Take out some extra insurance by updating your backups just before you leave. For maximum security, make a complete duplicate of your disk using a program such as SuperDuper ( ), and store it in a safe, offsite location. That way, even if the building burns down while you're away, you'll be able to get back to work quickly without losing any data.
2. Make important data available to yourself
Even with great backups, you could find yourself in trouble if you discover you need a crucial file but are unable to get at it. If you use an online backup service such as CrashPlan Central ( ) or Backblaze ( ), you can access your backups from any Web browser. If not, think about any files you might conceivably need while you're away from your computer, and copy them to cloud-based storage such as Dropbox or your MobileMe iDisk. No Internet where you're going? You could also put your files on a USB flash drive and take the drive with you.
Be sure you know, or can get to, your key passwords—especially those used for your backups or online storage! One way to do this is to sync your passwords to your mobile device using a program such as 1Password ( ). Another is to go low-tech and keep them on a piece of paper in your pocket.
3. Set up remote access
If you'll have an iPhone, iPod touch, iPad, or laptop with you (or access to someone else's computer), you can reply to urgent e-mail messages, review and edit files, and even control your desktop computer remotely, should the need arise. But all these things require some setup in advance.
If necessary, confirm that you can access your work e-mail account from your mobile device.

In the Sharing pane of System Preferences, enable Screen Sharing, File Sharing, and/or Remote Login (according to your needs). If you're a MobileMe subscriber and you'll have access to another Mac, go to the MobileMe preferences pane, click on the Back to My Mac tab, and start Back to My Mac. (Back to My Mac lets you access resources on a remote Mac without knowing its IP address or giving it a domain name. Here are some troubleshooting tips.) Otherwise, consider installing the LogMeIn utility (free; Pro2 edition, $70 per year) to give yourself remote access from any Web browser.

If you think you might need to access your home or office computer remotely, be sure to leave it turned on when you leave. In most cases, even sleep mode prevents remote access, so disable sleep (in the Energy Saver pane of System Preferences) and turn off your Mac's display.
4. Turn on an out-of-office notification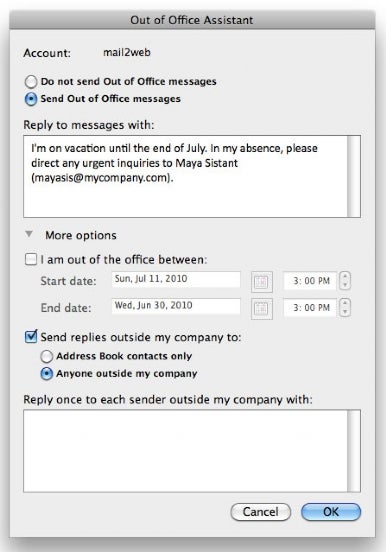 If you'll be unable (or unwilling) to check your e-mail while you're on vacation, you may want to set up an automatic reply to let your correspondents know you're away. The best way to do this is to set up a vacation or out-of-office message on your mail server. Exchange servers, MobileMe, and Gmail are among the many mail servers that can do this. If in doubt, check without your e-mail administrator. (You can also set up an automatic reply using a rule in an e-mail client such as Apple Mail or Entourage, but these work only when your computer is turned on and awake, with your e-mail program running—which may or may not be true when you're on vacation.)
For MobileMe, log in to your account at www.me.com, go to the e-mail page, and choose Preferences from the pop-up gear-shaped Action menu. Out-of-office messages are found on the Vacation tab of the new Mail interface.

For Gmail, log in to your account at www.gmail.com. Click the Settings link and then click General. Select Vacation Responder On. Then fill in your message and other details and click on Save Changes.

For Exchange accounts that you access via Microsoft Entourage, select your account and choose Tools -> Out of Office. Select Send Out of Office Messages, enter the message, adjust any other options to your liking, and click on OK.
5. Change your voicemail message
Last but not least, change your voicemail message to indicate when you'll be back and what the caller should do in case of emergency. If you don't normally retrieve your voicemail remotely, be sure you learn how.
Wondering whether you should make a big change—like switching to Google Voice—so you can get your voicemails sent to e-mail? Trust me, right before you go on vacation is not the time to do something like that. Besides, do you really want to be that accessible?
With these tasks taken care of, you're ready to relax. Happy vacationing!
Senior contributor Joe Kissell is the senior editor of TidBits and the author of Mac Security Bible (Wiley, 2010).