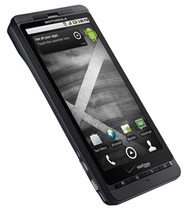 Verizon on Tuesday introduced the newest Droid and the second from Motorola, but some Android fans may be disappointed to learn that it won't ship with the latest operating system or the newest Flash Player.
The Droid X will ship with Android 2.1, which will be updated to so-called Froyo, or Android 2.2, later. That means that it initially won't have Flash Player 10.1, the latest version of that software that became available this week for Android 2.2. Onlookers had hoped the Droid X would come with Android 2.2.
The phone will become available on July 15 and will get Android 2.2 and Flash Player 10.1 later in the summer, Verizon said. It will retail for $199 after a $100 rebate.
The phone has a large 4.3-inch screen, bigger than most and matching the HTC HD2, a Windows Mobile phone. It will come with a Blockbuster application that lets users download full-length feature films and, because the phone has an HDMI port, watch the movies on other devices like TVs. Users will also be able to rent movies from Blockbuster to watch on the phone or other devices.
The phone has an 8-megapixel camera and can capture high-definition video. It has a 1GHz processor and can accommodate as much as 40GB of memory, including expanded memory.
The Droid X doesn't come with a physical keyboard and will ship with Swype, software that offers a new way of typing on on-screen keyboards without having to lift up the finger.
Users will be required to sign up for a $30-per-month data plan for unlimited access. They can opt to pay an additional $20 a month for a hotspot service that lets other devices, like a PC, connect to the phone for Internet access. The hotspot service is limited to 2GB of data usage.
Any Verizon customer whose contract is up any time this year can buy the phone for the subsidized $199 price.
Speaking at the event to unveil the phone, Google's Andy Rubin, vice president of engineering, said that the company is now selling 160,000 Android-powered devices each day and that the Android Market has 65,000 third-party applications.
He also officially announced that today Google has open sourced Android 2.2, making it available for handset makers to use. The software has already been pushed out to some review units of the Nexus One phone.
Google CEO Eric Schmidt made a surprise appearance at the event, where he promoted the benefits of Google's back-end cloud applications on mobile phones. Behind phones like the Droid X are "massively parallel supercomputers that do the computations" for services like voice translation, he said. But he also said that it takes powerful hardware and networks to deliver the capabilities available in such a device.