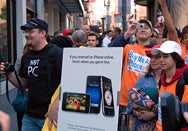 If you've been paying attention over the past few weeks, it should come as no surprise that the iPhone 4 is in high demand. More than 600,000 pre-orders and reservations were placed between Apple and its partners in the device's first day of availability. The result crashed servers, networks, and iPhone apps alike. Shipping dates have been pushed back into July, retailers stopped taking pre-orders—it's been tumultuous, to say the least.
And yet, for whatever reason, you've decided that come launch day, you're going to try and get yourself a new iPhone without a reservation. We commend you. If the pre-order process is any indication, this is going to be moderately more difficult than showing up on launch day for past Apple products. How difficult, you may ask? Well, before you rush out the door with a tent, chair, and your choice of soon-to-be-obsolete electronic gadget to pass the time in line, here are a few tips, tricks, suggestions, and warnings regarding your impending journey.
Don't go to AT&T
You may be tempted to go straight to the carrier, but it's ill-advised: AT&T put out a statement on Tuesday noting that "demand is simply unprecedented," and that they're "committed to fulfilling preorders first."
What this means: There will be iPhone 4s at AT&T stores on June 24, but unless you placed an online or in-store pre-order via AT&T and have had it confirmed, you won't be able to buy one until at least June 29. Once June 29 rolls around, all orders are first come, first served—and if those run out, you're looking at a nice undetermined wait time for your device to show up.
Bottom line: No AT&T store will have the iPhone 4 for walk-in customers on launch day. Don't go there.
Best Buy and Radio Shack aren't great options either
Here's the problem with third party electronics stores: initially, you think "hey, everyone's going to go to AT&T or Apple to order their phones, I bet no one but the blogger crowd knows that the iPhone 4 will be sold at Best Buy and Radio Shack too!" And you know, you're probably right. Unfortunately, you know who else is going to think that? Apple. As such, stores like Best Buy and Radio Shack get far fewer devices, and like clockwork, they sell out pretty much instantly.
Radio Shack put out a press release via Facebook to let its customers know that "demand for iPhone 4 has far exceeded expectations" (seeing a pattern here) and as a result, some stores won't even receive enough devices to fill their pre-order queue. Customers who have pre-ordered should call their local store to see if they'll be affected. In either case, it seems like walk-up purchases are completely out of the question. "We apologize for the inconvenience," says Radio Shack.
A similar story looks to be unfolding over at Best Buy. Computerworld dug up a few forum posts that allegedly indicate a supply of less than 15 devices per store. There's no official word from Best Buy itself, but considering the chain's employees were told to halt pre-orders, this does not look to be a good option.
Bottom line: Radio Shack definitely won't have iPhones for walk-in customers and may not even have them for customers who reserved. Best Buy might have an incredibly small supply, but it's probably not worth chancing it.
To the Apple Store, then?
It comes down to the folks who make the phone in the first place: Apple. In the past, retail launches like this have been organized as such: the store receives a shipment of devices dedicated solely to those who have pre-ordered, and a shipment dedicated for walk-in customers. On the day of launch (or several days before, depending on the size of your respective Apple Store), two distinct and separate lines will form: one for those with reservations, and one for those who wish to wait "Standby." Reserved devices are guaranteed until a certain point in the day, while standby devices are first come, first served.
This time around, Apple's strategy looks to be similar, but no doubt more limited. Macworld called fifteen Apple Stores between Colorado and New York to confirm tomorrow's operating procedures, and despite busy store lines, got through to four stores. Out of the four, two were able to expressly confirm that they will in fact have a supply of iPhone 4 units for walk-in customers, but could not divulge how many phones were being set aside or what the distribution of capacities (16GB vs. 32GB) would be.
There's a small chance that unclaimed phones originally set aside for reservation customers could increase this walk-in supply, but according to one store I spoke with, customers will have their phones reserved for them until 9:30 p.m., when the store closes. As such, those released phones may not be available for sale until the store's Friday 8 a.m. opening.
Bottom line: Apple Stores will have a separate supply of iPhones for walk-in customers on launch day, but they are first come, first served, and we don't know just how many are set aside per store. In other words, get there as early as humanly possible—remember, Apple Stores are opening at 7 a.m. for launch—and the further away from a city center your Apple Store is, the better.
Braving the Apple Store standby crowd
If this all this doom-and-gloom is prompting you to leap from your chair and run to your nearest Apple store, hold your horses. Before you head on over, there are a few key things to remember.
Whether you're signing up for a new account or upgrading your phone, go through Apple's pre-authorization process. Not only will this save you time once you get in the store, but you'll speed up the line for everyone else. If you head on over to Apple's pre-order page and choose the phone you wish to buy, Apple will have you fill out your AT&T information, will run a credit check (if applicable), and present your pricing options. This information will save an Apple Store employee the hassle of trying to touch type it when you're in the store. It speeds up your transaction time, and the rest of the line will thank you.
Check with your Apple Store to find out how early you can line up. Some stores, like Manhattan's Fifth Avenue flagship location, already have a swarm of people lined up outdoors. Other stores are in malls, which have specific restrictions about when and how you can line up. Check with the mall or your local store to find out specifics.
If you already have an account with AT&T, you cannot buy yourself a new iPhone without the account holder present (if the account holder is not you). If your dad is the one paying the bills, he has to stand in line with you to get the phone, and he has to bring his driver's license and know his Social Security number. Yes, it's a pain, but it's how Apple prevents fraud. You should also bring some sort of ID card.
Paying with cash is doable, but not ideal. You're required to use some sort of card to ring up your iPhone transaction. Some Apple Stores may let you buy a gift card for the amount of the phone, then use that gift card to ring out your purchase, but that's in no way guaranteed. In short: if you can use a credit card, it's preferable. Also, you'll need a card to do a credit check if you've never had an AT&T account before.
Bottom line: If you're planning to wait in line, launch day will be stressful, but don't forget to have fun and enjoy it. Talk to the people in line with you. Bring your iPad and play a good game of Strategery. Smile at the Apple Store employee who brings you water or helps you pick out a case. And just remember that you won't remember all this stress and hassle two weeks from now, once you're happily settled in with your new iPhone.
16GB iPhone 4 (GSM, AT&T)
32GB iPhone 4 (GSM, AT&T)