With Thursday's launch of the iPhone 4, Apple appears poised to have another blockbuster on its hands. And Peter Fader, for one, couldn't be more perplexed.
"It's a very nice phone, but it's not revolutionary. It's incremental," said Fader, a marketing professor in the Wharton School of Business at the University of Pennsylvania. "As much as it seems like a great device, with new features and functions, it doesn't seem like there's any one of them that was worth waiting for. I just don't get it."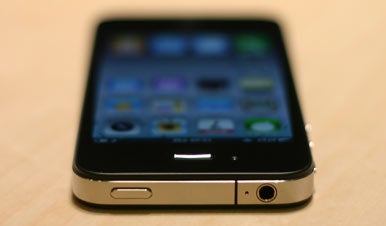 Fader may be alone in that regard. Apple says it's taken 600,000 pre-orders for the new iPhone, and the new phone figures to be hard to come by when it goes on sale in the U.S. Thursday morning. More to the point, other analysts say that the cumulative weight of the iPhone's new features—a redesigned form factor, sharper display, and video-chat capabilities—have updated a stalwart brand enough to help the company maintain its reputation as the leader in an increasingly crowded and competitive smartphone market.
"It's huge. You get a new form factor—a new physical design—plus you get the new software features," said Shaw Wu, an industry analyst with Kaufman Bros. "That typically drives a very powerful upgrade cycle." He forecasts sales of 9 million phones during this quarter, and up to 40 million phones sold by the end of the calendar year. If that prediction holds, it would represent staggering growth over Apple's reported sales of 24.9 million phones in 2009.
That success would be well-earned, observers say.
"This is the best iPhone that Apple has ever created," said Tim Bajarin, president of Creative Strategies. "I believe it will become the gold standard for smartphones."
Apple, however, faces something new with this iPhone launch: competition. The rise of the Android family of phones has offered a direct challenge to the company—as well as a parallel ecosystem of apps drawing the attention of both customers and developers. The threat from Android phones is so pronounced, in fact, that Steve Jobs actually addressed it during his keynote address at this month's Worldwide Developers Conference. In a typical dismissive fashion, the Apple CEO noted that the iPhone enjoyed three times the market share of Android phones during the first quarter of 2010.
Observers agree that Android shouldn't put too much of a dent in Apple's armor.
"There's no question we're seeing strong sales of Android, but the market for smartphones overall is growing," said Avi Greengart, research director for consumer devices at research firm Current Analysis. With "the biggest and the broadest app catalog," however, "Apple's really set themselves up well."
Charles Golvin, of market-research firm Forrester Research, agreed. He said Apple is still the industry leader, even if Android is closing the gap.
"I still think it's the best device on the market," he said of the iPhone. "But it's not head and shoulders above everything else."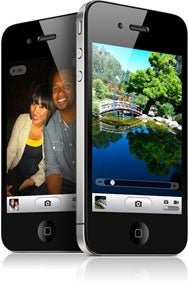 If Apple has to contend with the Android, Bajarin noted, the iPhone 4 is proof the company is ready for the fight. "It's significant," he said of the new phone, "because it raises the standard for the competition."
Introduced during the WWDC keynote, the iPhone 4 sports an updated design that includes both a redesigned camera on the back, as well as a front-facing camera. The latter supports the new FaceTime feature introduced with iOS 4, allowing iPhone 4 users to conduct video chats with one another over a Wi-Fi connection. The iPhone update also boasts an improved, higher-precision display and a new processor, among other features.
The iPhone 4 comes in 16GB and 32GB capacities, priced at $199 and $299, respectively. Apple will continue to sell an 8GB version of its iPhone 3GS for $99.
Brian Marshall, an analyst with Gleacher & Co., added: "The market's going to be big enough to support everybody."
Even in the fourth generation, observers said, Apple is still showing the power to wow consumers. The FaceTime feature allowing video chats should help sales, even if the requirements—that both users have the iPhone 4 and access to a strong Wi-Fi signal—mean it won't get much use in the early stages.
The redesign also offers technical benefits.
"I think the most interesting feature—ironically for the iPhone 4—is the ability to make phone calls," Marshall said, noting that users were reporting better call reception than on earlier iPhone models. "I think that's really important from a new customer standpoint, as well as from a replacement standpoint."
And if Wharton's Fader is stymied by Apple's apparent home run, he's also impressed.
"There's very few (companies) that can sustain that kind of buzz to keep people coming back for more," he said. "I imagine there's a lot of people who will be buying their fourth iPhone. How many products can say that?"
32GB iPhone 4 (GSM, AT&T)
Price When Reviewed:
$599
16GB iPhone 4 (GSM, AT&T)
Price When Reviewed:
$485