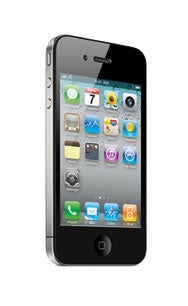 Some users who purchased the latest version of Apple's iPhone report finding yellowish spots and bands marring the device's high-resolution display.
Several blogs, including TUAW and Gizmodo, reported user complaints of yellow discoloration on the phone's screen, which offers significantly higher resolution than screens on previous versions of the handset.
Pictures of the problem posted online by Gizmodo showed faintly yellow patches and bands crossing the screen.
One forum poster at Apple Insider alleged the yellow blotches were the result of the chemicals being used to bond the iPhone's display to the glass. The writer claimed to have been one of those who helped pitched the bonding agent to Apple, further explaining that the blotches were the result of the chemical having not fully evaporated yet. As the evaporation continues, he said, the yellowing should diminish and disappear. A few user reports seem to agree with this assessment.
An Apple spokeswoman could not immediately be reached for comment about the reported screen problems.
The iPhone 4 went on sale Thursday in Japan, Germany, France, the U.K., and the U.S. However, some users in the U.S. who preordered the new handset received their phones before retail sales started.
Updated at 11:12 PT with information on the purported cause of the yellowing and possible solution.
32GB iPhone 4 (GSM, AT&T)
Price When Reviewed:
$599
16GB iPhone 4 (GSM, AT&T)
Price When Reviewed:
$485