Editor's note: The following review is part of Macworld's GemFest 2010 series. Every day from mid July through August, the Macworld staff will use the Mac Gems blog to briefly cover a favorite free or low-cost program. Visit the Mac Gems homepage for a list of past Mac Gems.
DateLine is a simple calendar application that comes in a limited free version or a slightly more advanced paid version that displays a linear monthly calendar on your Mac desktop. While the the free version of DateLine offers limited usefulness, the full version gives you more customization options and at-a-glance access to your calendar information all with the flick of a mouse.
The free version of DateLine offers a set of features that are very limited. You can change some basic options such as how DateLine opens iCal, whether the app opens at login, or appears in the Dock. You can also change theme colors and fonts, the dimensions of the Calendar and where the horizontal calendar appears on your desktop. Overall I found the free version to be of limited value especially as it does not display any iCal information or provide any visual clues as to iCal events you have scheduled, although double-clicking a DateLine day opens iCal to the date that you've selected.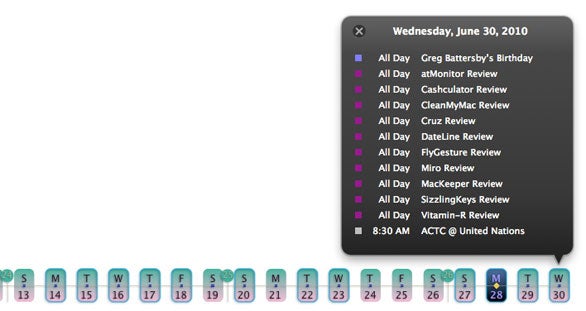 When you pay $5 to upgrade the program you get several additional features, chief of which is the ability to display iCal events and To-dos by hovering your mouse over a specific date. Events float above the selected date displayed in a linear, time-organized format. Additionally the paid version allows you to float DateLine above all other applications, lock the orientation of your calendar, change the number of days displayed by DateLine.
While DateLine's HUD calendar is unique, it's unlikely to entice me away from calendar applications like objectpark's MenuCalendarClock. But for those who need quick access to today's to-dos, DateLine will do the trick.
Want to stay up-to-date with the latest Gems? Sign up for the Mac Gems newsletter for a weekly e-mail summary of Gems reviews sent directly to your inbox. You can also follow MacGems on Twitter.
Our 186-page Mac Gems Superguide is a veritable greatest hits of Mac Gems. It's available as a PDF download, PDF on CD-ROM, or as a printed book. Learn more about the Mac Gems Superguide.
[Jeffery Battersby is an IT Consultant, Apple Trainer, (very) smalltime actor, and regular contributor to Macworld. He writes about Macs and more at his blog.]
Note: When you purchase something after clicking links in our articles, we may earn a small commission. Read our affiliate link policy for more details.