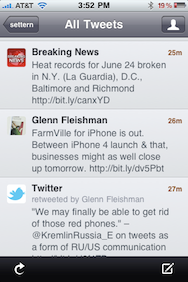 Sure, there may be a major product launch going on, but the App Store is still open for business—all those new iPhone 4 customers have to be able to download iOS-friendly programs, right? The latest of Thursday's app releases: a welcome universal update to the Iconfactory's Twitterrific.
Twitterrific 3.0 combines the company's previous three offerings (Twitterrific for iPad, Twitterrific for iPhone, and Twitterrific Premium for iPhone) into a single ad-supported universal application. In addition, the app has been updated to take advantage of iOS 4's fast app-switching and the iPhone 4's new Retina display.
Other features include a light appearance theme, available via the Settings app; a cleaner, simpler UI on the iPhone; VoiceOver accessibility for the visually impaired; relationship information on user profiles indicating if you're following someone or they're following you; and minor bug fixes related to URL shortening and composed tweets getting lost via network errors.
If you own Twitterrific on the iPad already, your app should update normally; however, existing Twitterrific users on the iPhone will have to re-download the app from the App Store to get the new version. Twitterrific is free and ad-supported by default, but an in-app purchase of $5 will remove the ads and allow users to add support for multiple accounts.
If you've already paid for the in-app purchase on the iPad, you can get it on the iPhone by clicking on the Upgrade button within the app; just like re-downloading an app you've already paid for, Apple won't charge you again (though, thanks to an awkward design choice, it still phrases this by asking if you want to buy the upgrade).
Sadly, previous users of Twitterrific Premium for the iPhone will have to pay the in-app purchase fee within the new Twitterrific app. "Unfortunately… Apple doesn't provide for upgrades in iTunes," developer Craig Hockenberry responded on Twitter to a curious customer in regards to the matter. "Tell Apple on their feedback page."