Few things bring a smile to everyone's face like a cute animal video. Pocket Zoo, an educational app from Tiny Hearts, is an interactive zoo map with animal pictures, stats, and plenty of live camera feeds from zoos around the world.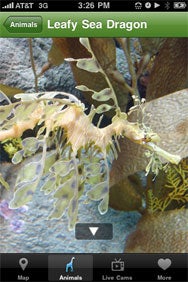 Simply slide your finger across your the screen of your iPhone, iPod touch, or iPad (where it runs as an iPhone app) to navigate the animated zoo. You can tap on creatures of interest for a complete profile. Prefer a quick search? There's a tab with a simple list of every featured animal.
Pocket Zoo offers the standard zoological trinity of lions, tigers, and bears, but the app includes a few obscure and delightful animals like the meerkat, manatee, and leafy sea dragon. Unfortunately, my beloved leafy sea dragon's description page has a few typos, so Tiny Hearts would do well to get a copy editor in before the app's next update.
Eleven of the 40 featured animals also get their very own webcams—and some get more than just one. While the killer whale and panda only have one choice, you can pick from one of nine different cameras to get a glimpse of a tiger. Feeds come from zoos all over the world, from San Diego, Calif., and Toledo, Ohio, in the United States to Zoo Sauvage in Canada and Matsushima Aquarium in Japan.
The cams are fun, but they can also be hit and miss depending on your Internet connection or if the cameras are turned off at night. This is particularly common with the multiple feeds from Kolmarden Zoo in Sweden, nine time zones ahead of me in California.
Pocket Zoo also includes a couple extras, including wallpapers of the animals and information on donating to conservation efforts. For $2, it's a fun little app that's a good choice for animal-loving kids and adults alike, even if the current version has a few manageable shortcomings.
[Meghann Myers is an editorial intern at Macworld.]