The folks on Capitol Hill are the latest to take an interest in Apple. According to a report in the Washington Post, Representatives Ed Markey (D-Massachusetts) and Joe Barton (R-Texas), who co-chair the House's privacy caucus, have issued questions to Apple CEO Steve Jobs over Apple's policy on collecting private information.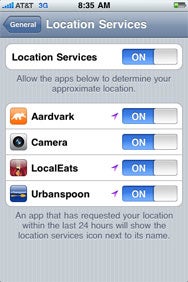 The specific focus seems to be on an updated clause in Apple's privacy policy which states that Apple's devices will collect location data from users and share said data with third parties. The text of that section reads:
To provide location-based services on Apple products, Apple and our partners and licensees may collect, use, and share precise location data, including the real-time geographic location of your Apple computer or device. This location data is collected anonymously in a form that does not personally identify you and is used by Apple and our partners and licensees to provide and improve location-based products and services. For example, we may share geographic location with application providers when you opt in to their location services.

Some location-based services offered by Apple, such as the MobileMe "Find My iPhone" feature, require your personal information for the feature to work.
However, as the Los Angeles Times reports, this collection is not necessarily new—Apple has been dealing with location data since 2008, when it first enabled its location services. The change seems to be that the clause on location data is now included in Apple's general privacy policy, as opposed to solely in the user license agreements for individual products, such as the iPhone.
The letter sent by Representatives Markey and Barton poses a number of questions, including asking Apple to spell out who the unspecified "partners and licensees" are—presumably that clause includes application developers who take advantage of the location features that Apple's iOS offers.
Of course, Apple does prompt users when an application requests location information, and users are presented with a choice to allow or deny such requests. In iOS 4, Apple has further increased transparency on location-based information, showing a menu bar icon whenever an app is accessing your location, and allowing you to deactivate location collection of specific applications as well as across the board.
It remains to be seen whether or not this will be enough to assuage the government's concerns. Privacy has become an increasingly sensitive topic; in particular, social networking service Facebook has found itself under increasing scrutiny over its use of personal information, even finding itself the subject of a class action suit earlier this year.