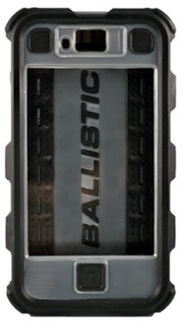 If you're serious about protecting your iPhone 4, and find the current crop of cases to be inadequate for your rough and tumble lifestyle, the Ballistic HC might be for you. Featuring four layers of durable, shock absorbing protection, the Ballistic HC—the "HC" stands for "hard core"—is a case made for the most rugged of iPhone 4 owners.
Specifically designed to "survive life," the Ballistic HC's four layers of protection startwith an inner layer of rubber that helps protect against drops and other physical shock. Next is a rigid structural frame, followed by another layer of shock absorbing rubber. The fourth layer is a removable outer silicone rubber shock-absorption skin that features connector seals to keep dirt and other foreign materials from getting into the iPhone's ports. Top it all off with a built-in screen protector, and you have a hard core case indeed.
The Ballistic case will be available this summer at all AT&T retail locations in a variety of colors and finishes, but for this level of protection, you can't expect to pay the same as you would for a typical case: Ballistic is asking $50 for these bad boys.
iPhone 4 Ballistic HC Series Case