Escape Norm's World is a simple puzzle game that will have you addicted—provided you make the in-app purchases. Developed by IUGO, this app lets you only have the easy levels for free, but the challenge (and fun) cost extra.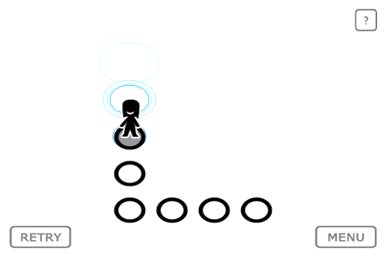 Gameplay is very simple—swipe your finger vertically or horizontally across the screen to jump on each spot once, and only once (spots disappear after you jump off of them). Your character cannot go backwards or diagonal, only forwards and side-to-side. You can leap across any amount of space, so long as you're not going backwards or diagonal. Hit every spot once to clear the board and advance to the next level.
Everything else about the game is simple, too—the art is minimalistic. Your character is essentially a black stick figure on a white background who jumps from black circle to black circle. In fact, the most color you get is when you complete a level and celebratory birds fly out of your character. There's no music at all, just simple water-sounds that you can turn on or off in the options menu.
The free version of Escape Norm's World includes an introductory mode (20 levels with varying difficulties) and an unlimited easy mode. Unfortunately, the easy mode is really, really easy. I played about 330 puzzles, and not a single one took me more than 30 seconds to complete. There are medium and hard modes, but these require an in-app purchase ($0.99 for both).
As a stand-alone free game, Escape Norm's World is nothing special—the last few levels in the introductory mode are all that are really worth playing. The easy mode is unlimited, but it's way, way too easy. The medium and hard modes are actually pretty challenging and addictive—but require an in-app purchase.
As a free app, Escape Norm's World is 2 stars at best—but as a paid app ($0.99), it's at least 3.5 if not 4 stars.
[Sarah Jacobsson is a frequent contributor to Macworld.]