Editor's Note: This story is excerpted from Computerworld. For more Mac coverage, visit Computerworld's Macintosh Knowledge Center.
The creation of a consumer electronics product involves input from a wide range of people, including marketers, engineers and usability experts. The task of product leadership is to pick and choose among competing agendas to arrive at the best product.
It's difficult to do, because often there is no way to solve a design problem that pleases everyone.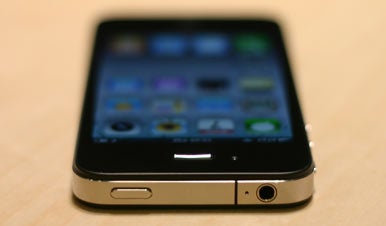 The design priorities of the products we buy often reveal the internal power dynamics of the companies that built them. By understanding the design decisions a company faced, and looking at its choices, you can figure out which types of people are influential in the internal give-and-take leading up to a final product design, and which types are relatively powerless.
Why the iPhone 4 reveals designer power
The iPhone 4 is a marvel of industrial design. Form and function are united beautifully, and it's an incredibly useful phone. I bought one. I love it.
But three design decisions by Apple demonstrate a new boldness, a new level of power by hard-core designers inside Apple—and a corresponding weakness by engineers and usability specialists.
In these three design areas, Apple was presented with a clear decision between design elegance and usability and chose design elegance every time.
1. The shape
Handset makers have universally understood for at least 10 years that the shape of a phone is more important than its size. The earliest PDAs and cell phones were clunky blocks with flat fronts and backs and relatively sharp edges. But handset makers quickly realized that if you make the edges thinner, with a curving back, the phone could actually be pretty thick in the middle, but it would "feel" like it was thinner. It would also look less obtrusive in a pocket than a thinner but uncurved phone.
A curved back also makes phones easier to handle. If the back of a phone is thicker in the middle, the center of the phone presses against the palm, making it harder to drop and easier to hold.
This handy bit of knowledge has been used in cell phones ever since, up to and including the iPhone 3G S.
The iPhone 4 is 24 percent thinner than the iPhone 3GS, but it's more awkward to hold. I hate to say it, but it's true.
I put my iPhone 4 in one pocket of my jeans, and my old 3G S in the other (with the curved back facing out), and you can't even tell the 3G S is in the pocket, whereas the iPhone 4 is clearly visible.
If you have both handsets, hold one in each hand, then put one in each of your front pockets. You'll see for yourself that Apple chose design elegance over usability.
The iPhone's design, up to and including the iPhone 3G, demonstrated a conspicuous balance between the various competing groups within Apple. Yes, it was elegantly designed with minimalist features, colors, materials and shapes. However, compromises to pure design elegance were made for the sake of usability. The contoured back. The rounded controls and buttons. The whole shape of previous generations of iPhones revealed smart usability people strongly influencing the design process.
The iPhone 4, however, demonstrates that the industrial design nerds inside Apple have gained so much power that they have deliberately sacrificed usability in order to achieve a higher level of industrial design elegance, represented by balance and symmetry.
In the case of the phone's shape, Apple has for the first time in the history of its phones clearly chosen form over function.
2. The antennas
The iPhone design is breathtakingly new in several respects. One of the most radical departures from how phones are normally designed is that the iPhone 4 has no internal plate. Usually, everything inside is bolted to one or more metal plates that give the phone its sturdiness. The iPhone 4 has instead a piece of metal surrounding the outside edge of the phone, which also happens to be the phone's antennas.
If you look at an iPhone's outside edge, you'll notice a thin black strip on the top, and one on either side near the bottom. The piece of metal that goes from the bottom strip on the right to the top is the antenna for voice phone calls. The one on the left handles Wi-Fi and Bluetooth.
This arrangement helps make the phone thinner. The lack of an internal plate frees up more space inside. And the dual use of frame structure and antennas frees up even more space, because separate antennas inside are unnecessary.
One small problem: If you hold the phone in a way that covers up much of the left antenna (easy to do when holding the phone with your left hand), as well as both lower black strips, you lose most or all of your signal-strength bars, and you could drop your call.
Not a big deal, says Apple. A few years ago, Apple ads encouraged customers to "think different." Now, its solution to iPhone 4 antenna problems is to "hold different," or buy a case.
To a usability expert's mind, the most important thing is for users to whip out their phones, hold them any way they like and make high-quality calls with or without a case.
But to a designer, the elegance of the outside-edge solution is huge, and any minor inconvenience to the user is small.
At Apple, the designers won this argument without compromise.
3. The glass on the back
Apple made the unprecedented decision to put glass on the back of the iPhone 4, just like the front. No, there's no screen or touch-pad on the back — and no reason at all to put glass there.
Well, there's one reason. To an out-of-control designer, the sheer elegance and symmetry of identical materials front and back is beautiful. Never mind that glass breaks, scratches and weighs a lot.
I'm sure usability experts, engineers, marketing people, bean counters and others came up with dozens of reasons why the back of the iPhone 4 should be made of some material other than glass. But the designers wanted glass, Steve Jobs sided with them, and now we have a beautiful new phone that's heavy and fragile.
Don't get me wrong: The iPhone 4 is a great phone. For many, including myself, it's the best cell phone you can buy right now. And there's something to be said for adding more beauty and elegance to our lives with the products we buy.
But there's no question at all that Apple has made some unprecedented design decisions that reflect the growing power and dominance inside Apple of the pure-design people, and a reduced emphasis on practical usability.
[Mike Elgan writes about technology and global tech culture.]
32GB iPhone 4 (GSM, AT&T)
16GB iPhone 4 (GSM, AT&T)
Note: When you purchase something after clicking links in our articles, we may earn a small commission. Read our affiliate link policy for more details.