Kabuki Vision on Monday introduced DocsPortal 1.0 for iPad. The app integrates with your Google Docs account, letting you browse, search, and view all your documents therein—including word processing documents, spreadsheets, presentations, and other files you store with Google.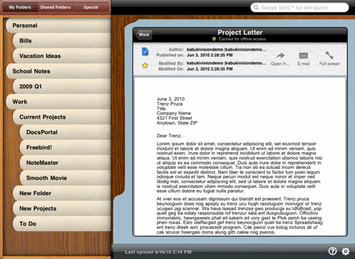 DocsPortal actually downloads those documents directly to your iPad, making them available offline. When you are online again, the app ensures it has the latest versions of all your files.
Of course, you can't actually edit files with DocsPortal. Fortunately, the app does support exporting documents to other apps, like Apple's iWorks suite. You can also e-mail documents from directly within the app.
DocsPortal costs $4 and requires an iPad running iOS 3.2 or later.