Dash cams have become our ultimate driving fact-checkers. Need evidence in the event of an accident? You're covered. Dashcam footage is a godsend. And with many insurance carriers, it can even lower your rates.
At 10 inches long, this touch-activated IPS screen slips over your current rearview mirror. It turns it into a functional car command monitor, shooting full HD quality 4K ultra-detailed video of the road ahead and what's behind your vehicle.
The front lens swings 170°, and the rear lens covers 160°, offering a total 330° field of view with few blindspots of anything happening on the road during bright daylight or even in the dead of night courtesy of the night vision capabilities.
Watch back-recorded video right on the touchscreen, or set it in G-sensor mode to start recording automatically in the event of an accident. There's even advanced voice control that lets you adjust camera angles, start and stop recordings, or even snap a still image.
Be ready for anything out on the road.
Grab this 10″ 4K Touchscreen Dash Cam with Voice Control for just $95.99.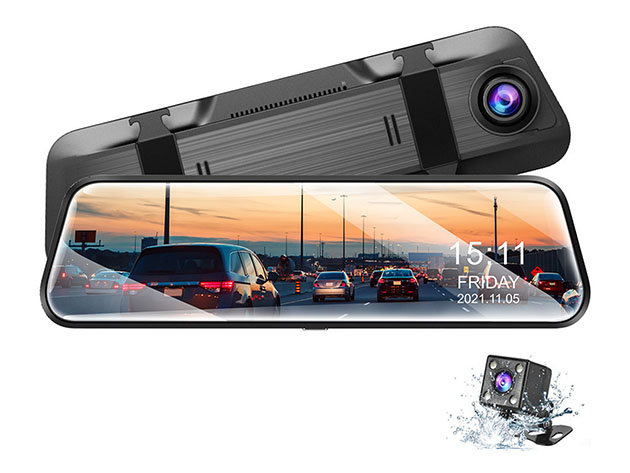 10″ 4K Rear-View Mirror Mounted Touchscreen Dash Cam with Voice Control & Rear Backup Camera – $95.99
Prices subject to change.