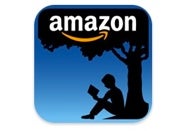 Amazon is enhancing its Kindle reading experience by adding major new features to the platform—but only for iPad, iPhone, and iPod touch users.
The mammoth Internet retailer has introduced audio and video features to a handful of books in its Kindle marketplace. These features are supported only by its free, universal Kindle app for Apple's devices (including the iPad), which competes with Amazon's own Kindle hardware devices for aspiring e-book customers.
The books available with the new audio or video features include a few from Rick Steves's travel series (such as the 2010 editions of Paris, Rome, and London), Knitting for Dummies 2nd edition, and Bird Songs: 250 North American Birds in Song. All of the multimedia-infused Kindle books released so far cost $10.
Amazon updated its iOS app last week to version 2.1.1 with no mention of support for the new features. Presumably, this latest version supports these enhanced books.
Support for multimedia books should give Amazon a leg up over Apple's iBookstore. iBooks 1.1 indeed brought new features like bookmarking, annotations, and highlighting, as well as cloud sync for all this information between the iPad, iPhone, and iPod touch. But support for multimedia has so far been the domain of third-party apps that live outside of iBooks as separate, native apps.