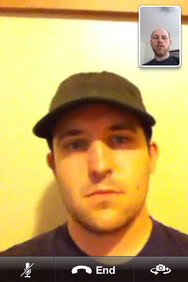 While being the first person in your social circle to get your hands on an iPhone 4 certainly gives you bragging rights, there's a downside to being in such an exclusive club—there's no way to try out the phone's FaceTime feature. After all, it takes two to video chat—and in the case of FaceTime, it takes two with an iPhone 4 and a Wi-Fi connection.
But if you bought an iPhone 4 and don't know anyone else who has one, you are, apparently, not alone. In fact, the situation seems to be so common that Apple has set up a special hotline that allows you to test FaceTime with a company representative at no charge.
All you need to do is call 1-888-FACETIME (1-888-322-3846) from your phone. Once any of the Apple reps at the other end of the line pick up, they will go over some details with you to confirm that you can, indeed, use FaceTime: namely, they will ensure that you are the owner of an iPhone 4 and that you are connected to a Wi-Fi network.
You'll then get switched over to FaceTime, as the rep spends a few minutes showing you how the technology works, going over its features, and answering any questions you may have.
FaceTime, one of the main new features of Apple's latest iPhone offering, is designed to provide simple, easy-to-use video-chatting capabilities to cellular users. Although the technology currently requires iPhone 4 and only works over Wi-Fi, the company has stated that it plans on making its underlying protocols an open standard and work with mobile providers to include support for cellular data at a later date.
32GB iPhone 4 (GSM, AT&T)
Price When Reviewed:
$599
16GB iPhone 4 (GSM, AT&T)
Price When Reviewed:
$485