At a Glance
Expert's Rating
Pros
Sturdy construction.
Lights mimic color of stompboxes.
Nearly all the functionality you need in a foot controller.
Cons
Can't directly select effects.
Our Verdict
When Apple introduced stompbox effects and amps with GarageBand '09, I was among the reviewers who complained that wonderful as having virtual stompboxes was, the inability to control them as you played was a significant lapse. Guitarists routinely switch effects as they play and having to take your hand off the instrument to click a virtual switch ruins the musical flow.
Apogee has come up with a solution with its $395 GiO USB effects pedal-board controller. This sturdily-built controller is around 18-inches long, 7-inches wide, and 2.5 inches tall. It sports five on/off switches for enabling and disabling effects; Previous and Next buttons for cycling through guitar presets; and individual Record, Go To Beginning, Rewind, Fast-forward, and Play/Pause buttons. On the back of the GiO you find a single quarter-inch instrument input, a quarter-inch headphone/speaker jack, and one more quarter-inch jack for an expression pedal.
The GiO, in addition to acting as a way to trigger effects, is also a USB audio interface. Configure your music application correctly and you can monitor not only the instrument plugged into the GiO, but also the sound coming from your Mac—including tracks playing back in your digital audio workstation (DAW).
While its buttons and an attached expression pedal send standard MIDI Control Change messages and can therefore be used with any DAW application, the GiO was specifically designed with Apple's GarageBand '09 ( ), Logic Studio ( ), Mainstage 2 (included with Logic Studio), and Logic Express 9 ( ) in mind. What makes that relationship special is the visual feedback the GiO provides when using one of these applications.
In play
After installing the GiO driver on your Mac, plug in the USB cable, make your audio connections, and launch your music application. If the application doesn't configure itself automatically to use the GiO for audio input and output, you can open an audio preference within the application and manually make the assignment.
When you couple the GiO with GarageBand and create a guitar track, the lights above the effect on/off switches glow the same color as the on-screen stompbox. So, for example, if you've dialed up the Eighties Alternative amp/effects preset, the first four lights glow gray, purple, turquoise, and blue to reflect the colors of the Sustain, Flanger, Chorus, and Delay stompbox effects on screen. This feature is more than just eye candy. If you're using the GiO on a dimly lit stage, the color coded lights give you a fair notion of which effect is assigned to a particular switch.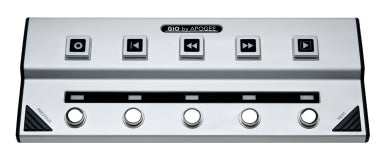 You can't use GiO to directly call up a specific preset, however. For example, if you need to switch between GarageBand's Bluesbreaker and Low Down Blues setups you must stomp on the Next or Previous buttons multiple times to step through GarageBand's presets. If you don't have the time to perform multiple stomps in the middle of a song you can create presets of your own in the order you'll need them so that they're just a stomp or two away.
The GiO works similarly in Logic Studio, Logic Express, and Mainstage 2. The Transport buttons control Play/Pause, Fast Forward, Rewind, Record, and Go to Beginning and the Next and Previous buttons step you through effects presets. As with GarageBand, the stompbox effects in these applications are color-coded and GiO's lights reflect the color of each effect.
Unlike GarageBand, Logic Studio, Logic Express, and Mainstage 2 allow you to assign functions—volume or wah, for example—to an expression pedal plugged into the GiO. To set up that pedal you first need to launch the GiOConfig utility and choose one of two expression pedal profiles—Yamaha (FC7) or Roland (EV-5). Most popular expression profiles match one of these standards. Once you've configured the pedal you can assign it within the application.
Macworld's buying advice
The GiO works as advertised, is easy to set up, and is sturdy enough to stand up to even the most rigorous gigs. Most importantly, it's convenient. While you can certainly start and stop recordings with the Mac's keyboard, call up the presets you want with a mouse, and add expression when mixing, being able to stomp on a few handy buttons helps keep your mind on the music instead of the engineering. For those using Logic and Mainstage 2 in live performance, having a pedalboard like this is almost a necessity.