BBC News is, without comparison, what you would expect from one of the greatest news organizations on the planet—an elegant, information-packed, customizable app that delivers a wide range of global news.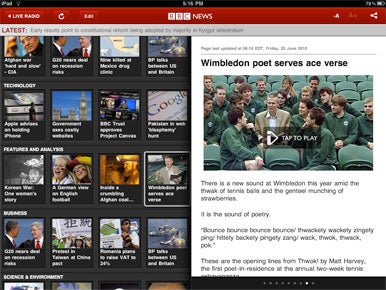 When stacked up against the competition, however, BBC News falls short. While the app can include hundreds of stories at any given time (depending on how you it's configured), it doesn't come close to matching the depth of the BBC's mobile site. Nor does it match the audio offerings of the mobile site. The BBC mobile site includes short audio updates on many topics and links to lengthier podcasts, as well. The BBC News app, however, offers only a few short news updates, sporadic video embedded in print stories, and a live audio feed (also available on BBC mobile).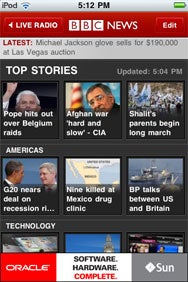 In comparison, NPR News (for the iPhone) and NPR for iPad both offer about the same level of customization as BBC News (allowing you to choose which topics you want to appear). But NPR includes audio with most stories, and enables you to listen to stories immediately and create your own playlist to listen to later; the playlist can include individual news stories as well as lengthier NPR programs.
There's nothing wrong with the BBC News app—it's chock-full of attractive, well-organized, world-class journalism; it runs natively on both the iPhone and iPad; and it's free. But the app from BBC Worldwide can be better designed (as NPR demonstrates), and offer a whole lot more content, both in text and audio format (as the BBC's own site demonstrates).
[Jeff Merron is a freelance writer and editor living in North Carolina.]