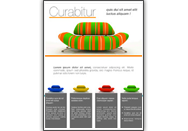 Consider this scenario: you're in a hotel room, away from home and your laptop, with your trusted iPad as the only connection between you and the wonderful world of computing. Suddenly a client demands a whitepaper or perhaps your national sales office wants you to prepare a report—pronto. Your are, to put it generously, "graphically impaired." What do you do?
Hong Kong-based Facilisi may have the answer for you. The company, which specializes in designing documents for iWork, has just released a new collection of some seventy templates designed specifically for use with the iPad version of Pages, Apple's word-processing app.
With templates for letters, reports, pamphlets, flyers, and more, Facilisi covers a large number of activities with looks that cater to a variety of tastes, from serious and professional to colorful and entertaining. Each template is fully editable inside Pages, making it possible for users to customize the exact look of their documents.
Templates in Facilisi's new Pages for iPad collection are sold individually for $1 and can be purchased directly from the company's Website using your iPad, though you'll still need to install them via your computer, so make sure to load them up before hitting the road. The company also publishes numerous templates—over 1,200 at the time of this writing—for Pages's desktop version.
Updated 6/30 6:45AM PT to clarify installation process.