The big day has finally arrived—Apple has held its Wonderlust event and unveiled the iPhone 15, Apple Watch Series 9, and more. We tracked the event as it happened, which you can see below, or jump right to the stories about all of the new products
Wonderlust event: Every announcement
iPhone 15 Pro and iPhone 15 Pro Max
Apple Watch Series 9 and Ultra 2
iOS 17, iPadOS 17, watchOS 10, macOS Sonoma
Wonderlust event: Live updates
12:55pm ET: The stream has started with "Natural" by Jackie Mendoza.
1pm ET: The keynote has started with a film showing how Emergency SOS, Crash Detection, and health sensors on the iPhone and Apple Watch rescued them from traumatic and life-threatening situations.
1:05pm ET: Tim Cook says Apple has "big announcements about the iPhone and Apple Watch today."
1:07: Cook is recapping the hardware announcements from WWDC.
1:08: First up Apple Watch
1:09: Apple Watch Series 9 has "powerful new Apple silicon and amazing new features you'll use every single day."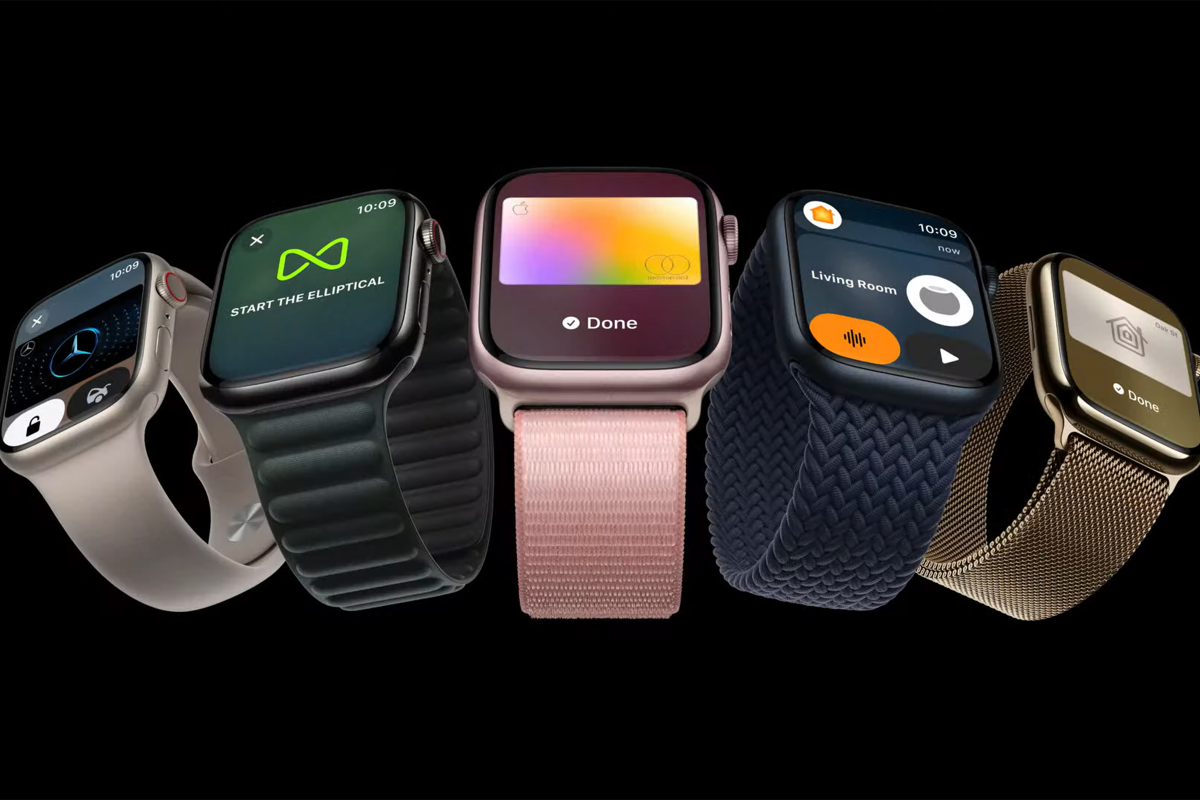 Apple
1:10: S9 processor is the most powerful watch processor Apple has ever made. 30 percent faster graphics with a new Neural Engine. Same 18-hour battery life. Siri requests are now processed on device.
1:11: Siri can access health data, like sleep, steps, and medication. Available later this year.
1:12: Brighter display up to 2000 nits. U2 chip will help find your iPhone with precise location finding.
1:13: New gesture Double Tap. Tap index and thumb together twice to answer calls, end calls, and the primary button in other apps.
1:17: Apple Watch Series 9 is available in Starlight, Silver, Midnight, and Pink. Gold and graphite in Stainless Steel models.
1:20: Apple is showing a lengthy video on its environmental impact.
1:23: Apple Watch Series 9 uses recycled metals and 100% recycled cobalt. Sport Loop uses more recycled materials.
1:26: No more leather in Apple Watch bands. FineWoven and a new Hermes partnership that doesn't use leather. Nike sport loop and sport bands use recycled materials
1:29: Apple Watch Series 9 is Apple's first-ever carbon-neutral product.
1:30: Apple Watch Ultra 2 with "incredible new features that elevate any adventure."
1:31: Brightest display ever with 3,000 nits, same 26-hour battery life.
1:33: Apple Watch Series 9 starts at $399, Ultra 2 starts at $799. Preorders today, available September 22.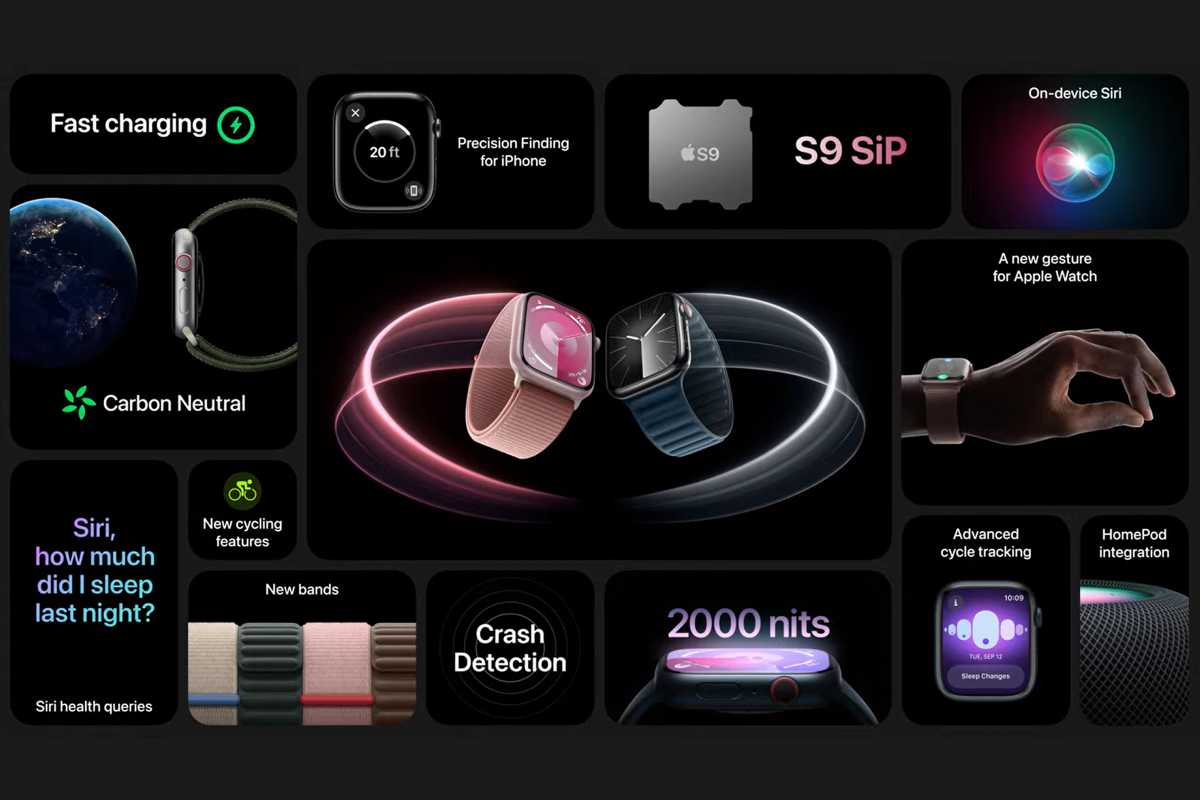 Apple
1:35: It's iPhone 15 time!
1:36: Dynamic Island comes to the iPhone 15.
1:38: Brighter display in same sizes (6.1-inch, 6.7-inch).
1:39: Pink, yellow, green blue, and black with new "color-infused" materials.
1:41: New 48MP main camera for with 48MP or 24MP photos. Apple has also enabled 2X telephoto without a dedicated telephoto camera.
Apple
1:44: New portrait features let you adjust the blur and focus after a photo is taken, even if Portrait mode hasn't been used.
1:46: Second-gen U2 chip with a new way to find friends using precision tracking.
1:49: Roadside Assistance via Satellite will let you connect to a roadside assistance provider. Launching in the U.S. with AAA. Free for AAA members, available separately for non-members.
1:51: USB-C to iPhone 15! AirPods Pro case too.
1:52: No more leather cases; FineWoven material replaces leather in the lineup.
1:52: You can use your iPhone 15 to charge your AirPods Pro 2 and Apple Watch.
1:54: Same prices as before, $799 and $899.
1:55: iPhone 15 Pro and iPhone 15 Pro Max!
1:56: Lightest Pro models ever. New contoured edges, thinnest borders ever on an iPhone. Reduced iPhone dimensions without reducing the screen size.
1:57: Grade 5 Titanium, the same allot used on the Mars rover. Helps with thermal dispersing and weight distribution.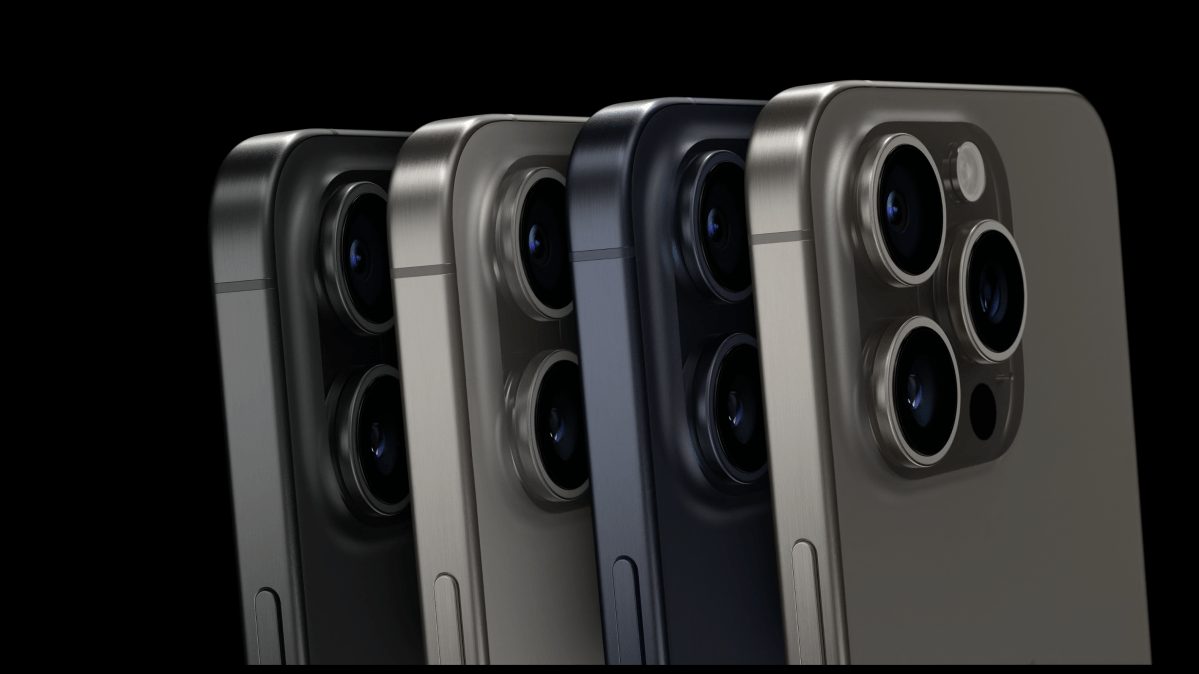 Apple
1:59: White, black, blue, and natural titanium.
2:00: Action button! By default, it's still ring/silent. Customizable press to launch apps and launch Shortcuts and other actions. Feedback on the Dynamic Island.
2:02: The 3nm A17 Pro has a "breakthrough" new GPU. Fastest mobile CPU, most efficient mobile CPU. Neural Engine twice as fast.
2:05: USB-C 3 speeds up to 10Gbps
2:06: Pro-class GPU: 6-core design up to 20 percent faster. Energy efficiency for sustained performance. Ray tracing for the first time!
2:10: Cameras! Users can now shoot in 48MP HEIP or 24MP with the main wide-angle lens. iPhone can shoot high-res photos in 24, 28, and 35mm. 2X better low-light performance.
2:14: iPhone 15 Pro Max has "our longest optical zoom yet," 5X optical zoom and 120mm focal length. "Tetra-prism" camera design.
2:16: USB lets you record ProRes video at 4K 60fps directly to an external drive.
2:18: Log encoding supports Academy Color and Coding System for filmmakers. Spatial videos can be recorded and viewed on Apple Vision Pro.
2:19: iPhone 15 Pro $999 ($128GB); iPhone 15 Pro Max $1,199 (256GB). Preorders begin Friday, and availability on September 22.
2:20: iCloud+ is now available in 6TB and 12TB options.
2:23: Tim's wrapping up, that's all folks.
Wonderlust event: The latest news and rumors
Apple Store is down: As is customary before events, Apple has taken its online store offline.
No new iPads: A refresh of the iPad mini or iPad Air appears to be not happening as Ming-Chi Kuo reports that "new iPad models are unlikely before the year's end."
Apple Watch FineWoven bands: Apple is expected to dump leather from its line of Apple Watch bands in favor of a new synthetic material called FineWoven.
New case materials: Apple is expected to drop leather and silicone for its iPhone cases and some Apple Watch bands and introduce a new environmentally friendly material.
No more mini: Apple's 5.4-inch iPhone will likely be discontinued following the launch of the iPhone 15.
Grade 5 Titanium: MacRumors reports that the iPhone 15 Pro and Pro Max will use Grade 5 Titanium instead of stainless steel, the same alloy used in racecars and airplanes.
No 2TB model: While it has been rumored for a while that Apple would introduce a new 2TB tier for the iPhone 15 Pro models, MacRumors reports that 1TB will remain the top storage amount.
8GB of RAM: The same MacRumors source reports that the iPhone 15 Pro models will get a bump from 6GB to 8GB of RAM.
Wonderlust event: How to watch
Apple is streaming the iPhone 15 event for all to watch on its website, TV app, and YouTube channel. If you can't watch, you can follow along on this page for live updates as all the new products are announced.
Wonderlust event: What we expected Apple to release
We expected Apple to launch several new products, including the iPhone 15, iPhone 15 Plus, iPhone 15 Pro, and iPhone 15 Pro Max; the Apple Watch Series 9 and Ultra 2; and updated AirPods with USB-C.