Let's face it: The iTunes Store's HD movie section has a ways to go before it ranks among Apple's crowning achievements. The studios are still way too attached to physical Blu-ray and DVD sales, and old films are too often priced at the new-film premium of $20. Apple took a step on Tuesday to address at least one of these problems.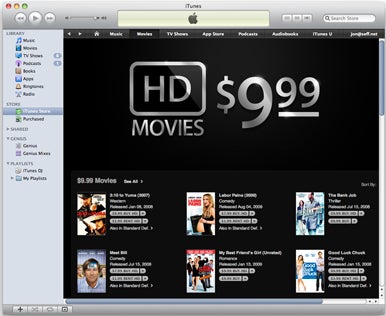 No, Apple has not (yet) managed to finish dragging the studios into the 21st century en masse. But it has introduced a $10 HD movies section and stocked it with 30 films including 3:10 to Yuma, American Psycho, and The Doors. Of course, Witless Protection and Disaster Movie also made this bargain-HD-bin debut, but I guess Apple needs to take what it can get for now. (Oddly, three of the films on the list cost $8 while one is only $6.)
This isn't the first time Apple has made a push for reasonable prices on some of the iTunes Store's HD movie selection. When it added a ton of new HD movies last November, prices loosened up on a handful of HD films, including Top Gun for $18 and Terminator 2 for $13. If the studios keep meeting consumer demand like this, they might run the risk of actually attracting customers to the iTunes Store movie aisles.