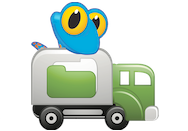 Cut, copy, and paste. Three things that work in every Mac application, right? Not quite. The Finder allows you to copy and paste files, but has no love for the cut command.
Kapeli's moveAddict adds "cut" to the Finder for those of you who find yourself fruitlessly pounding command-X. It works identically to Finder copy-and-paste features, but moves files instead of copying them.
The absence of "cut" makes sense on Apple's part; the clipboard is the equivalent of storing items on the sill of an open window on the twenty-eigth floor. Forget that it's there, copy something else, and whoosh, out the old clipboard goes in a defenestrated death spiral.
Unlike a true "cut" to the clipboard, moveAddict's features have files remain in their original position until they are pasted, so there is no risk of data loss. moveAddict also provides a merge folders function, which acts as an alternative to overwriting a folder of the same name.
moveAddict is $5 and requires Mac OS X Snow Leopard. The trial version does not expire, but is limited to a single file at a time.