Befuddled HD for iPad is a cleverly-implemented word game. Developed by Inert Soap, the game mixes elements of Boggle with Scrabble's letter weighting system, and throws in some nuance all its own.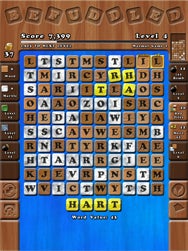 Your main game board is a 10-by-10 grid of wooden letter tiles. As you spell words with adjacent letters, the tiles you use vanish from the board. But there's no race against the clock. In lieu of a timer, Befuddled escalates its difficulty by offering tiles of different types. When you encounter stone tiles, for example, you can only connect those letters to other adjacent stone tiles.
By earning more points in the game, though, you can unlock the ability to blow up certain tiles, or to convert wooden tiles into stone (or vice-versa). Once you've earned enough points, you progress to the next level and keep going.
The result of these unique rules is that Befuddled HD is as much a strategy game as it is a word game. Each level offers a finite number of replacement tiles; if you don't score enough points to progress before the tiles run out, you'll either need to buy more tiles (if you have enough points), or give up.
Befuddled cleverly allows you to keep multiple games running (at different difficulty levels) simultaneously, allowing you and the folks you begrudgingly share your iPad with to maintain different games.
My sole complaint about the app is the method of word submission. I'd prefer to double-tap on the final letter to submit my finished words, but instead you need to tap on the spelled-out word at the bottom of the board. This isn't a huge deal, but it makes for a lot of hand sliding when you get on a roll.
On the whole, though, Befuddled HD is a delightful word game, and adapts wonderfully to the iPad's big screen.
Befuddled HD costs $2 and requires an iPad running iOS 3.2 or later.
[Lex Friedman is a frequent contributor to Macworld.]