If you're a fan of knitting and/or crocheting, or would like an introduction to these classic hobbies, Jones APR's Knitting & Crocheting HD is an educational iPad app that should have you knitting and crocheting your way to a warm and cozy winter.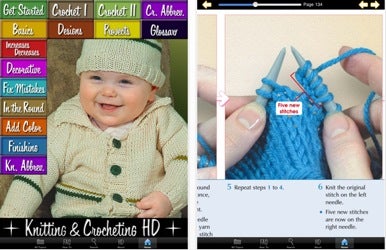 Billing itself as a full featured knitting and crocheting app, Knitting & Crocheting HD includes detailed illustrations and step-by-step instruction, as well as more than 500 photographs to help get you started. It hits on various knitting topics such as increases and decreases, decorative touches, fixing mistakes, knitting in the round, knitting with color, and finishing projects.
The app also features a large crocheting section that includes lessons on how to make slip knots, chains, slip stitches, and single, half double, double, triple, and even double triple crochet stitches. In total, the app boasts about 20 different lessons for you to hone your skills on.
To make navigation easier, Knitting & Crocheting HD runs in portrait and landscape mode and provides a search function, chapter popover menus that allow quick access to topics, and pinch to zoom functionality for any full page.
Knitting & Crocheting HD sells for $5 and is compatible with any iPad running iOS 3.2 or later.