iClipboard, the clipboard manager for OS X from Chronos, has undergone a major update. The most significant addition in iClipboard 3 is called "Paste Blaster," which Chronos says enables very fast and easy clipping selection.
First introduced in late 2007, iClipboard records everything copied to the clipboard from any application. By keeping a history of your clippings, the app lets you paste anything you've copied, rather than just the last item you copied to the clipboard. It also lets you copy multiple clippings and paste them consecutively.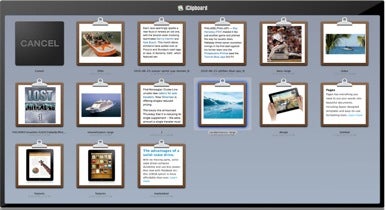 The new Paste Blaster feature imitates the Mac OS X application switching functionality, where you press Command-Tab to switch applications. Instead of scrolling through applications, however, Paste Blaster lets you scroll through and select clippings, making the task significantly faster and more convenient.
Other improvements in the version 3 update include the ability to copy clippings to projects, and 64-bit support.
iClipboard 3 runs on Mac OS X 10.5.8 or later and sells for $30 for the stand alone version, or $15 as an upgrade. A family pack is available for $50.