The App Store offers numerous traditional RSS readers for the iPad, like NetNewsWire and Reeder. I took a look at a pair of more fancifully-designed RSS readers that eschew tradition in favor of something all together unique.
The first of the two apps I tested was STARSS, a $3 app from developer Christopher Kriens. The interface in STARSS is based on LCARS. My nerd card is forged, so I had to look it up: LCARS ("Library Computer Access/Retrieval System") is a fictional operating system originated by Star Trek: The Next Generation. And frankly, LCARS is a fairly dystopian vision of the future of operating systems.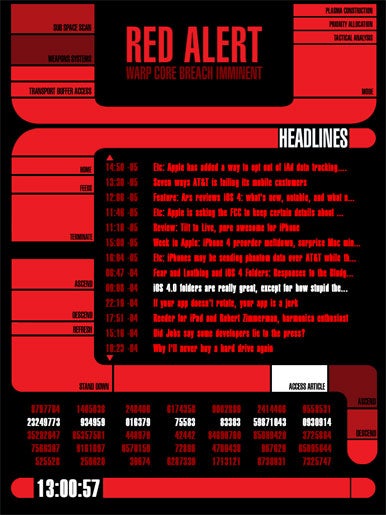 While meant to be futuristic, LCARS—and thus, the STARSS app—employs a decidedly '70s-era, retro look (limited to portrait mode). The interface in STARRS doesn't let you tap directly on article headlines, or scroll through posts by swiping. Instead, your $500-plus iPad is reduced to an old-school terminal where you tap Ascend and Descend buttons to navigate, and Terminate buttons to go back.
This may sound charming to you, particularly if you're a Trekker. And it is charming, for a few moments. But the intentionally clunky interface, combined with the incessant beeps and boops that accompany every tap, quickly becomes tiresome. But even if you're interested in the app as a lark, I can't promise it will satisfy. That's because STARRS is also a bit buggy. Article text can get weirdly cut off on the left edge. You must manually enter your feeds, and if you make a typo in one of the URLs, the app doesn't notify you until you try to read—at which point it displays an unhelpful error message that doesn't tell you which feed specifically has a problem.
If you're genuinely interested in reading your RSS feeds, STARRS simply isn't the answer. The other app reviewed here, on the other hand, might be—depending upon your situation.
Pulse News Reader, a $4 app from Alphonso Labs, aims to couple your feeds with a magazine-inspired layout. The more image-laden the blogs you read are, the better Pulse looks, since it attempts to grab photos to display alongside as many post titles as it can.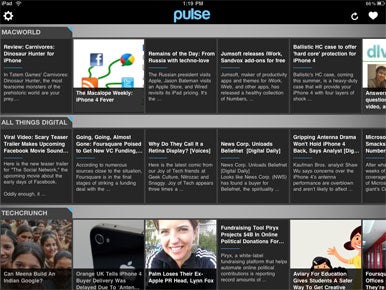 You scroll vertically through a list of your feeds, and horizontally through the posts within each feed. I subscribe to more than 200 feeds, and Pulse really isn't geared toward managing that many subscriptions. But when I fed Pulse a dozen or so of my favorite daily reads, it fared quite well.
The use of images is clever, and the grid interface makes it easy to skim headlines even from image-free sources. Tapping on a headline causes that article to zoom in from the side, and reading in Pulse is decidedly pleasant. The app works well in both portrait and landscape orientations.
Unlike STARRS, Pulse is focused on being a good RSS-reading citizen: The app supports posting to Twitter, sending articles to Instapaper, and can sync with your Google Reader account. (Note that, at this writing, Google Reader integration is broken in Pulse because of an authentication change on Google's end, but the developers promise a fix is coming shortly.) Pulse can even pull in links from your Twitter and Facebook streams as pseudo-feeds.
But again, I can't use Pulse full-time, subscribed to as many feeds as I am. If, however, you only need to (or only use the app to) keep track of a handful of feeds, it's an elegant approach to RSS, and simply delicious to use on the iPad. STARRS, meanwhile, really only works if you want to subscribe to sites like this one.
[ Lex Friedman hopes the force is with you all. Wait, is that the wrong one?]