Pool Pro Online 3 for iPad, a $2 game from Namco Networks America, is a study in contrasts. The pool hall looks pretty impressive, with nice 3D graphics. The gameplay is pretty intuitive, too. But a MIDI-esque, repetitive soundtrack, coupled with some amateurish in-game notifications, combine to make the game's overall effect less impressive than it should be.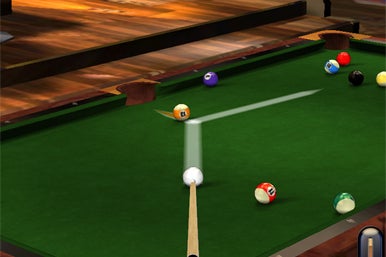 First, let's focus on the positives: Pool Pro is pleasant enough to look at, and the gameplay itself is quite passable. You can broadly aim your cue by swiping back and forth across the iPad's screen, or adjust its position more precisely by using a smaller, finesse-friendly bar below the pool table. If you need to add spin, you just tap the English button and indicate where you'd like to hit the cue ball. When it's time to strike the ball, the flicking mechanism—while occasionally a hair finicky—generally works precisely. And of course, you can switch camera angles to get a better view before you make your play.
Pool Pro includes 8-Ball, 9-Ball, and Snooker, and you can choose from four different levels of difficulty. Beyond playing the computer, the game offers several multiplayer options: you can play online via OpenFeint, play peer-to-peer via Bluetooth or Wi-Fi, or play via pass-and-play. Using Namco's UniteSDK technology, you can play Pool Pro Online 3 for iPad against your friends across a variety of platforms—including the iPhone and the Mac.
Where the game suffers, besides its pitiable soundtrack, is in its in-game alert system. Any time there's a change of turn, or a scratch, or even a victory, Pool Pro splashes an unattractive black bar across the entire screen. That bar stays put for a couple seconds, and you can't skip past it. It's not awful to the point of ruining your game experience, but it's definitely annoying to sit through countless ungraceful two-second pauses when you're just trying to shoot some pool.
That said, if you're looking for low-key billiards fun on your iPad, Pool Pro Online 3 delivers—you'll just need to be a patient player.
[ Lex Friedman makes subtle puns, as if on cue, after many of his Macworld reviews.]