Despicable Me: Minion Mania, from prolific game developer Namco, is technically a promotional vehicle for the upcoming Universal Pictures animated feature starring Steve Carrell. However, the game is satisfying enough to stand alone without the big summer movie behind it.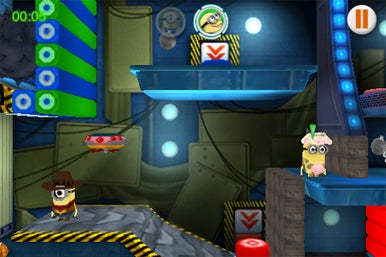 The movie stars Gru, a super-villain par excellence, but Minion Mania puts his bespectacled, overall-clad little henchmen in the lead role. Gru is after a shrink ray to complete his diabolical plan to be the number one super-villain in the world, so it's up to the minions to track it down for him.
The graphics are pulled right from the movie, of course. The menus are crisp and flawless, but there is some slight fuzziness when you're actually playing. Still, the environments are vibrant and detailed enough to make up for it.
The game progresses through 20 hazard-filled platforming levels, starting pretty simply but getting really difficult around number nine. It's not intuitive at all, but prompts and instructions help you figure things out until it starts to make sense. The help section has complete descriptions of every power-up, weapon, and helpful object in the game for quick referencing.
Each level includes two or three individually controlled minions; you tap on a minion to select him, then tap the area on the screen where you'd like him to move. Swiping the screen moves the camera around for an overall picture. Each level takes place in an enclosed, maze-like area, and you must coordinate the minions to unblock pathways and pick up weapons so that one can get to the end.
Each level is littered with coins to collect and use toward buying outfits and accessories to customize your minions, and an achievement board records the great feats you've accomplished. A menu of extras includes a synopsis of the film, four trailers, and a handful of movie stills.
Though Despicable Me packs a lot of entertainment, I'm not sure the $5 price tag is totally appropriate. The game does take time and effort to complete, and has some replayability with the list of possible achievements— but it's probably not going become part of your permanent app arsenal.
If you're not ready to commit, there is a lite version with two stages available. And if you do end up parting with that $5, you won't be disappointed. Though Despicable Me is decidedly a kids' movie, this game will certainly challenge and entertain adults as well.
[Meghann Myers wishes she had her own minions to do her bidding.]