With World Cup fever at a deafening pitch this summer, soccer games are abundant in the iTunes Store. Footballz!, from Inlogic Software, is a casual and entertaining arcade style game that's fun to play whether you're a FIFA fanatic or not. While Footballz! is dodgeball-esque than soccer sim, there's enough frenetic fun to keep you coming back for more.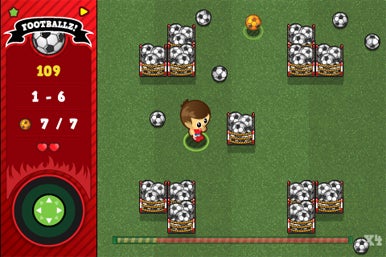 Footballz! takes place on a vibrant green football pitch with balls flying in every which direction. You use the on-screen joystick to maneuver your balloon-headed, miniature cartoon man around to capture only the gold balls. Unlike in soccer/football, where the goal is effectively to hit the black-and-white ball, in Footballz! you must avoid being hit by the checkered spheroids or you're out.
Several power-ups appear as well, with the power to speed you up or slow down the regular soccer balls so you can get past them more easily. Hearts give you more lives, meaning you can take a few more hits without losing.
The game starts simply with an open field and a few rogue balls, but progressively there are more and more obstacles to avoid on your way to the gold ball. You earn points for each ball picked up, the faster the better, as you move up through the levels.
Footballz! is OpenFeint enabled, so your high scores and achievements are posted to their leader boards for other users to see.
Confusingly, the game's App Store descriptions claims that there are six game characters to choose from as well as five terrains, but I couldn't find any sort of options or settings section either in the main menu or in-game. These options are novel but not really necessary, so it's disappointing that they're falsely advertised or likely still in development.
The lack of additional options is a shame too, because everything else about Footballz! is great, down to the $1 price tag. It's still a worthwhile game, even if Inlogic has a few issues to iron out.
[Meghann Myers is an editorial intern for Macworld.]