If you're a fan of vampires, the second part of Dracula: The Path of the Dragon is sure to pique your interest. Developed by Chillingo, this is the sequel to the adventurous Dracula: The Path of the Dragon, and it starts off where the last episode left off. However, it's completely playable without the first episode (though you might want to download the first episode to get the whole story).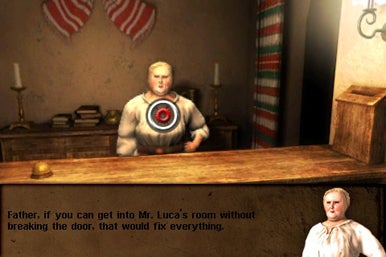 You play Father Arno Moriani, a priest on a mission to investigate a candidate for sainthood. But your mission is derailed amidst local legends and fears, and you find yourself with the task of proving that vampires don't exist…but now, even you're not so sure that that's the truth.
The game is an immersive, 360-degree point and click adventure, and features a number of puzzles that you must solve in order to advance. Controls are simple—hold down and swipe your finger to look around, and click on things to interact with them. Things you can interact with are marked by a red gear logo. You also have an inventory, with separate sections for items you pick up and documents you receive.
Puzzles are solved using items and documents that you gather on your journey, as well as a keen eye and a little bit of brainpower. So if you were hoping to take a stake to the undead, this isn't the game for you. Your character's life is never truly threatened, and there's no time limit on puzzles. All in all, the puzzles probably could have been a little harder—I found there was just under an hour of gameplay, and, while intriguing the first time, this is not really a game that I'm dying (haha, dying!) to go through again.
The graphics are fantastic—very detailed—and the short video clips are nicely high-def. The sound is a nice touch—there's a constant, creepy soundtrack that really adds to the atmosphere.
Dracula: The Path of the Dragon — Part 2 is intriguing, with great graphics, and definitely leaves you wanting more (luckily, the third chapter is already out), but it lacks replayability. The website boasts 3 to 4 hours of gameplay and I only got about an hour, which, considering I'm 1) bad at puzzles 2) very cautious and 3) scared of scary games, that's not a very good game length. Also, it's not really the kind of game that you'll want to play over and over again. That said, at $1.99 it's not terrible, especially if you plan on getting the entire series.