A picture's standard square corners can be somewhat lifeless and do little to set mood. On the other hand, rounded corners can enliven a picture, giving it either comedic context or a touch of class.
You can easily add corners to your photos using Photoshop CS4 or CS5—just follow these simple steps and your photos will be ready for online sharing!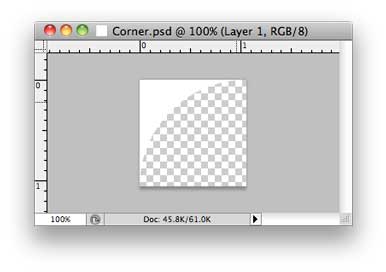 In Photoshop, choose File->New. Create document that is 250-by-250 pixels (with a resolution of 300 pixels per inch) and choose a transparent background; when you're done, click OK.
Click the Paint Bucket tool and then fill the document with a solid white.
Use the Elliptical Marquee tool to create a circle the full width and height of the document. Smart Guides (View->Show->Smart Guides) can make this process easier; magenta lines will appear when you're flush with each edge. If the size or positioning of the circle is not correct, choose Select->Modify->Expand or Contract to adjust the size. Use the arrow keys on your keyboard to reposition the circle (do not use the Move tool in the toolbar).
Choose Edit->Clear (or press the Delete key) to remove the circle. This leaves you with a transparent circle and opaque corners.
Choose Image->Canvas Size. Set a new width and height of 125-by-125 pixels and choose to anchor the crop to the top left. Click OK. You're then warned that you're about the crop the photo to a smaller size; to continue, click Proceed and then OK.
You now have your top left corner. Choose Select->All and then Edit->Copy. Open the photo you want to add the corners to, and then choose Edit->Paste.
Ensure that the Snap function is active (View->Snap) and that it's set to snap to the edges of the document (View->Snap To->Document Bounds), and then use the Move Tool to drag your corner to the top left.
To place a corner at the top right, choose Layer->Duplicate Layer from the Layers Panel (which gives you Layer 1 copy), choose Select->All, and then choose Edit->Transform->Flip Horizontal.
Choose Layer->Merge Down to merge the two corner layers.
To place the corners along the bottom, choose Layer->Duplicate Layer, and choose Select->All, but this time, choose Edit->Transform->Flip Vertical.
Choose Layer->Merge Down to again combine the two corner layers into one.
The final step is to make the corners transparent. First, choose Select->Deselect. Now look at the Layers Panel. If the layer your photo is on is called Background, control-click (or right click) the layer and choose Layer from Background. Give the layer a name if you like (by default, it's named Layer 0) and click OK. Now click your corners layer and choose Layer->Layer Style->Blending Options. Under Advanced Blending, reduce the Fill Opacity to 0 and then, from the Knockout pop-up menu, choose Deep. To lock in your changes, click OK.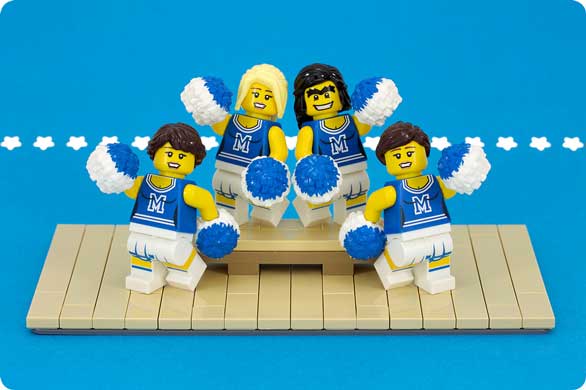 Once you've completed your corners, choose File->Save As. To preserve each layer of the file, choose PSD format; to flatten the file but maintain corner transparency, choose PNG format; or to flatten the file and lock in the white corners, choose JPG format. Then upload your photos and alert your friends—you'll be surprised just how well they respond to your crafty new corners!
[Chris McVeigh is an author, illustrator and toy photographer who lives in Halifax, Nova Scotia.]
When you purchase through links in our articles, we may earn a small commission. This doesn't affect our editorial independence.