One of the best parts about traveling is sharing your experiences with friends and family back home. Technology has given us a ton of new options for staying in touch and sharing the best stories, photos, and updates from a trip, while we're still on the trip. With the proliferation of camera GPS technology (and cool iPhone apps to help if your camera isn't logging locations), social networking tools, and Internet cafés, you can leave a trail worthy of Carmen Sandiego herself.
You're probably already familiar with the classic ways of documenting your vacation, like mass e-mails, Tumblr, Blogger, Facebook, and Picasa. Here are some of our off-the-beaten-track favorites.
Social networking with photos and maps
TagWhat is a social networking site where location is key. Users attach URLs, text, photos, and videos to locations on a map, creating a virtual x-marks-the-spot. As you tag the sites where you stop, friends and family can follow you in real time from home, making it the closest thing to actually going on vacation with you. Updating is easy using the TagWhat iPhone app or any internet-connected computer. You can also tag places on your itinerary and later use the preset tags to help you find your way to that place, or follow the tags of travelers in a place you're planning on going, to make the most of your experience.
Do more with Flickr
Flickr is one of the most popular photo sharing sites on the web, and with good reason. It allows users to post and edit photos easily and with different levels of privacy. Recently, Flickr rolled out a new design, which features a big map showing where geotagged photos were originally taken. Another way to integrate maps with your Flickr account is to take a trip to the Flickr App Garden. Apps like iMapFlickr allow users to geotag their photos, create their own map color schemes, or customize map settings. For those who like to focus on the journey itself, there's also Trippermap, where you trace your course on Google Earth and tag photos along the way. Flickr allows two videos and 100 MB of free photo storage space per month.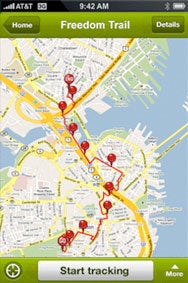 Track trails biked and hiked
One of the many photo-sharing, blogging, mapping hybrid sites on the web, EveryTrail stands out for ease of use if your trip involves a lot of walking or biking. EveryTrail has mobile apps for real-time uploading, or you can use the Eye-Fi Geo x2—a wireless memory card for your camera that automatically geotags each photo. Users create their own maps and slideshows, and can write reviews of the trail that they followed. Also, once you start searching the site, you'll no doubt find trip reviews that will make you itch for the next vacation.
Send a postcard
Bill Atkinson PhotoCard allows you to take photos and convert them into digital or real postcards. Take a picture with your iPhone and type a short message to go with it. Then press a button to send the postcard via email (even though the app costs five dollars, a promo for Bill Atkinson pops up when you send a postcard digitally.) However, the real fun of this app is that you can use it to send your photo and message as a real, 8 by 5.5-inch glossy postcard, in the actual mail. Each postcard costs $2. This is a great tool if you're traveling someplace with a less than reliable postal system.
Create a printed travel journal
One of the traditional travel journal's last appeals was the tactile presence of a book in your hands. Everlater has you covered here. On this site, you can share your travel stories with anyone, uploading pictures and video to pages like you would a blog, but when you make it back to home base, you can turn all those 1s and 0s into a real book with the click of a button. Everlater will format your book automatically, but editing is simple–no software or downloads are required.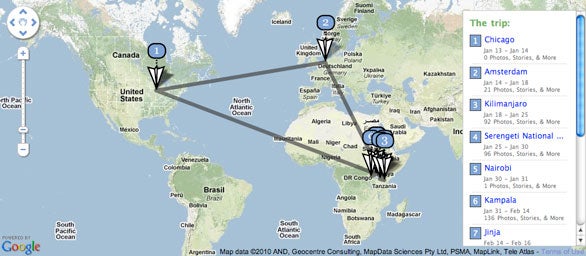 Broadcast from the road
Say you don't have a smartphone, time difference is causing trouble coordinating with family and friends on Skype, and e-mail feels impersonal. 321 Social Audioblog allows you to record two minute messages for a whole group on its site, and lets others leave their own as well, twitter-feed style. This app is also great if you're coordinating a vacation with a lot of people, since group members can call in and leave messages about where they are, how delayed the flight is, or if they've found a street fair worth a rendezvous. Apple approved a 321 web app in mid-May, so you can use it on your iPhone too.
Update Twitter and Facebook from China
Updating to Twitter and Facebook, two of the most popular websites on the Internet, is the easiest way to share all the little details of your vacation with friends, family, and casual acquaintances. But travelers to China, which has banned both sites, have to find a workaround to get their social media fix. That's where Freedur comes in. Installing Freedur software on your laptop (Freedur for iPhone is not yet available, but should be coming soon) will create a virtual private network (VPN) so you can tweet across the Great Firewall. One month costs $20, but the service is more secure and complex than most free twitter proxies.
Make personal podcasts
iSaidWhat?! by Tapparatus makes recording an audio postcard for your friends and family easy. This app lets you record audio on your iPhone, edit it, and export it via email, Facebook, or Twitter. If writing long mass emails takes too much time out of your schedule, record a personal podcast from the road and edit in the sounds of a bustling New York City, or the chirping of Appalachian birds to add a creative touch. This app even provides a visual wave form to make editing easier.
Share your own techniques for documenting trips in the comments.
[Megan Geuss is a freelance writer and researcher based in Oakland. You can follow her on Twitter where she is @MeganGeuss.]