If you had a Mac at any point in the early to mid '90s, there were certain games that you played. Maelstrom was one—another was the futuristic tank fighter, Spectre. Well, the future is apparently now, as Brilliant Bytes Software has released Spectre 3D, a re-make of the classic game, for the iPhone and iPod touch.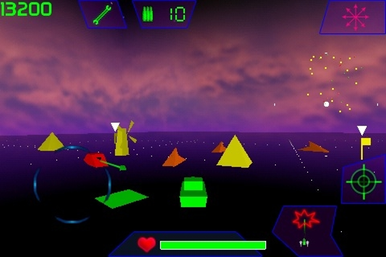 For its single-player mode, Spectre 3D actually incorporates both the original Spectre and a later sequel, Spectre VR. In both games, you zoom your tank around a barren landscape, collecting flags and avoiding obstacles such as giant windmills and enemy tanks. As you progress, you can acquire new weapons and more powerful tanks.
The original Spectre was notable for being one of the first popular multiplayer games on the Mac, albeit one that relied exclusively on AppleTalk. Spectre 3D retains that heritage, with support for a variety of different multiplayer game types over Wi-Fi, Bluetooth, and the Internet, including Arena, Capture the Flag, Flag Rally, and Base Raid. You can play with up to 16 players over the Internet or Wi-Fi and four over Bluetooth.
And, in order to live up to its name, Spectre 3D even sports an anaglyph stereographic mode that you can use with 3D glasses for an eye-popping experience. Me, I think I'll stick with my retro 2D experience. Now, if only Ambrosia would release Escape Velocity for the iPad and somebody would port Microprose's Sword of the Samurai, maybe I could finally enjoy my second childhood.
Spectre 3D costs $5 and runs on any iPhone or iPod touch with iOS 3.1.3 or later (it also runs on the iPad in compatibility mode). A free version, Spectre 3D Lite, allows for five levels of single-player and five minutes of the Arena multiplayer mode.